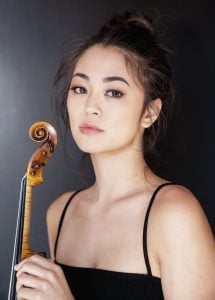 Pasadena CA – Music Director David Lockington and the Pasadena Symphony present their annual Baroque program with Vivaldi Four Seasons on Saturday, January 25 at Ambassador Auditorium with matinee and evening performances at 2:00pm and 8:00pm. Lockington describes the program for his Baroque conductorial debut with the orchestra as being "filled with all sorts of twists." He will put the focus on the strings for the first half, beginning with a string arrangement of selections from Bach's Goldberg Variations, and then present them in a completely different light for Reena Esmail's Teen Murti, drawing on Hindustani raags. The orchestra's virtuosic Principal trumpet, Marissa Benedict will then take the stage to play an Albinoni oboe concerto transcribed for trumpet. A highlight of the concert, Avery Fisher Career Grant recipient Simone Porter will perform Vivaldi's Four Seasons interspersed throughout the program, which will close with Piazzolla's Spring from The Four Seasons of Buenos Aires, a modern counterpoint to Vivaldi's Baroque masterpiece.
The Pasadena Symphony's 19-20 season continues to spotlight fresh talent with both violinist Simone Porter and composer Reena Esmail. Continuing its tradition of showcasing the stars of tomorrow here today, the organization heralds the return of Porter, who first performed with the orchestra in 2014 at the age of 18. "On the cusp of a major career" (Los Angeles Times), Porter's roster is now in full international stride, and her technical chops and elegant vibrato will bring an expressive panache to Vivaldi's most cherished concertos. Acclaimed local composer Reena Esmail embodies the pioneering and diverse spirit of the 19/20 Composer's Showcase with her Teen Murti, which reflects her Indian American heritage by combining traditional raag rhythms with Western techniques for a sonorously magical experience.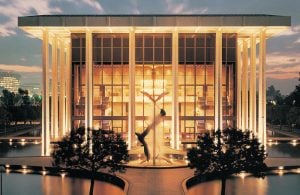 The Pasadena Symphony provides a quintessential experience specially designed for the music lover, the social butterfly or a date night out, and the inner epicurean in us all. Audiences can enjoy a drink or a bite in the lively Symphony Lounge, yet another addition to the care-free and elegant concert experience the Pasadena Symphony offers. A posh setting at Ambassador Auditorium's beautiful outdoor plaza, the lounge offers uniquely prepared menus from Claud & Co for both lunch and dinner, a full bar and fine wines by Michero Family Wines, plus music before the concert and during intermission.
All Symphony Classics concerts take place at Ambassador Auditorium, 131 S. St. John Avenue, Pasadena, CA 91105, with performances at 2pm and 8pm. Subscription packages start at $99 with single tickets starting at $35. Both may be purchased online at pasadenasymphony-pops.org or by calling (626) 793-7172.
What: The Pasadena Symphony presents Vivaldi Four Seasons
David Lockington, conductor
Simone Porter, violin
Marissa Benedict, trumpet
Albinoni Oboe Concerto (transcribed for trumpet)
Vivaldi  Four Seasons
Bach Goldberg Variations for Strings
Reena Esmail Teen Murti
Piazzolla "Spring" from Four Seasons of Buenos Aires
When: Saturday, January 25, 2020 at 2:00 pm and 8:00 pm
Where: Ambassador Auditorium | 131 South St. John Avenue, Pasadena, CA 91105
Cost: Tickets start at $35.00
Parking: Valet parking is available on St. John Ave. for $20. General parking is available in two locations for $10: next to the Auditorium (entrance on St. John Ave) at the covered parking structure and directly across the street at the Wells Fargo parking structure (entrance on Terrace at Green St). ADA parking is located at the above-ground parking lot adjacent to the Auditorium (entrance on St. John Ave.) for $10. Parking purchased onsite is cash only.
Symphony Lounge: Located on the plaza at Ambassador Auditorium. Opens at 12:30 pm before the matinee and 6:00 pm before the evening performance.
Pre-Concert Discussion: Pre-concert discussions with David Lockington begins one hour before curtain and is available to all ticket holders at no cost.