Plus Oscar® and Grammy® Award-winning composer Michael Giacchino's Voyage
Pasadena CA – Music Director David Lockington and the Pasadena Symphony continue the 19/20 Symphony Classics season with Gershwin/Debussy on Saturday, February 15 at Ambassador Auditorium with matinee and evening performances at 2:00pm and 8:00pm. This powerful and romantic Valentine's program opens with a bang with Copland's Fanfare for the Common Man and celebrated film composer Michael Giacchino's interstellar Voyage. Nick Kendall of the wildly popular Time for Three brings his unique brand of virtuosity and infectious enthusiasm to a fanciful violin concerto based on Gershwin's Porgy and Bess and Vaughan William's longingly poetic Lark Ascending. Debussy's La Mer paints a majestic picture of the sea with a mosaic of orchestral colors to close out the symphony's ode to romance, arriving just in time to celebrate with your valentine.
The February concert boasts a new work by Oscar® and Grammy®-Award winning composer Michael Giacchino as part of the orchestra's 19/20 Composers Showcase. Perhaps the most highly acclaimed film composer of his generation, Giacchino has written scores for many popular films including Up, Coco, Star Trek, Jurassic World and most recently Jojo Rabbit among many others. Commissioned by the National Symphony Orchestra in 2018 to commemorate the 60th anniversary of NASA, Voyage is Giacchino's first work written for symphony orchestra. He says the work expresses "what is going through your mind when you wake up on the morning of a launch, going out to the pad, being buckled in, waiting for launch, blasting off, weightlessness, reaching your destination, and coming home." Lockington describes the piece as "epic in its kind of cinematic scope and also very personal."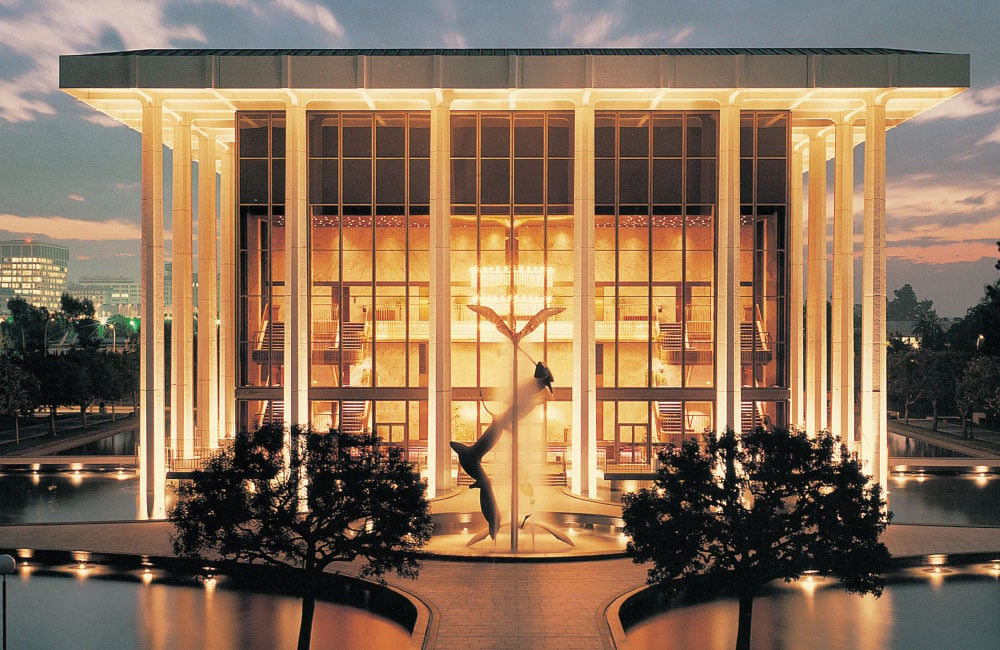 Make it an occasion to remember and treat your Valentine to a one-of-a-kind experience with lunch or dinner in the luxurious Symphony Lounge, a posh setting along Ambassador Auditorium's beautiful outdoor plaza, that offers uniquely prepared menus for each concert from Claud &Co, fine wines by Michero Wines serving Riboli Family Wines, plus music before the concert and during intermission. Or come early to learn more about the music with Insights, a pre-concert discussion with Music Director David Lockington and violinist Nick Kendall, beginning one hour prior to each performance.
All concerts are held at Ambassador Auditorium, 131 South St. John Ave, Pasadena, CA. Subscription packages start at as low as $99. Single tickets start at $35 and may be purchased online at www.pasadenasymphony-pops.org or by calling (626) 793-7172.
What: The Pasadena Symphony presents Gershwin/Debussy
David Lockington, conductor
Nick Kendall, violin
Copland Fanfare for the Common Man
Michael Giacchino  Voyage
Gershwin Porgy and Bess: Fantasy for Violin
Vaughan Williams  The Lark Ascending
Debussy La Mer
When: Saturday, February 15, 2020 at 2:00 pm and 8:00 pm
Where: Ambassador Auditorium | 131 South St. John Avenue, Pasadena, CA 91105
Cost: Tickets start at $35.00
Parking: Valet parking is available on St. John Ave. for $20. General parking is available in two locations for $10: next to the Auditorium (entrance on St. John Ave) at the covered parking structure and directly across the street at the Wells Fargo parking structure (entrance on Terrace at Green St). ADA parking is located at the above-ground parking lot adjacent to the Auditorium (entrance on St. John Ave.) for $10. Parking purchased onsite is cash only.
Symphony Lounge: Located on the plaza at Ambassador Auditorium. Opens at 12:30 pm before the matinee and 6:00 pm before the evening performance.
Pre-Concert Discussion:Pre-concert discussion with David Lockington and Nick Kendall begins one hour before curtain and is available to all ticket holders at no cost.