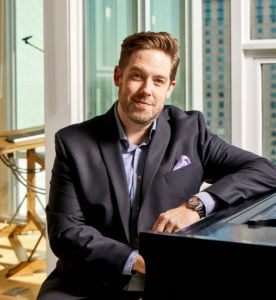 Pasadena, CA – The Pasadena Symphony continues its 2021/22 season on Saturday, March 19 with Mozart Symphony No. 40. Mozart's stormy symphony headlines a colorful program with Grieg's hugely popular Piano Concerto and Adam Schoenberg's "Finding Rothko." Highly sought-after conductor Brett Mitchell leads the orchestra as Artistic Partner for this emotionally-charged repertoire with both matinee and evening performances at 2:00pm and 8:00pm at Ambassador Auditorium.
The concert's program opens with Emmy Award-winning and Grammy-nominated composer Adam Schoenberg's "Finding Rothko," described by the Aspen Times as a "colorful orchestration, rich in textures and a sense of power similar to the painter's work." Los Angeles-based Schoenberg is one of the top 10 most performed living composers in the U.S., and the Pasadena Symphony is honored to welcome him as one of the 2021/22 season's Composers Showcase artists.
Renowned Cuban pianist Aldo López-Gavilán takes center stage for the romantic Piano Concerto written by Edvard Grieg, "the Chopin of the North," for his beloved wife Clara. Hailed as a "genius" by the Seattle Times, López-Gavilán will ignite Grieg's masterpiece with his "dazzling technique and rhythmic fire." In the second half of the program, conductor Brett Mitchell will make the brilliance of Mozart shine with his revelatory exploration of the intensely emotional Symphony No. 40.
The Pasadena Symphony holds the safety of its audience, staff and musicians as its top priority. In order to provide the safest possible experience for all concertgoers, all patrons who are eligible must have received a COVID-19 booster dose in addition to being fully vaccinated in order to attend this performance. Masks are now optional inside the venue. Covid-19 protocols for concerts at Ambassador Auditorium are evolving with LA County Health Department guidelines and will be updated here: pasadenasymphony-pops.org/safety.
Make it an occasion to remember and enjoy dinner in the outdoor, tented Rusnak Symphony Lounge, yet another addition to the elegant concert experience the Pasadena Symphony offers. A posh setting along Ambassador Auditorium's beautiful outdoor plaza, patrons enjoy uniquely prepared menus for both lunch and dinner at each concert by Claud & Co, a full bar and fine wines from the Michero Family serving Riboli Family Wines, plus music before the concert and during intermission. In order to provide the safest possible experience, all food must be pre-ordered. For more information, visit: bit.ly/symphony-dining.
All concerts are held at Ambassador Auditorium, 131 South St. John Ave, Pasadena, CA. Single tickets start at $35 and may be purchased online at pasadenasymphony-pops.org, by calling (626) 793-717,2 or at the Ambassador Box Office starting at noon on concert days.
What: The Pasadena Symphony presents Mozart Symphony No. 40
        Brett Mitchell, conductor
        Aldo López-Gavilán, piano
        Adam Schoenberg          Finding Rothko
        Grieg                               Piano Concerto
        Mozart                            Symphony No. 40
  
    
When: Saturday, March 19, 2022 at 2:00pm and 8:00pm
Where: Ambassador Auditorium | 131 South St. John Avenue, Pasadena, CA 91105
Cost: Tickets start at $35.00
Parking: Valet parking is available on Green Street for $15. General parking is available in two locations: next to the Auditorium (entrance on St. John Ave) at the covered parking structure for $10 and directly across the street at the Wells Fargo parking structure (entrance on Terrace at Green St). ADA parking is located at the above-ground parking lot adjacent to the Auditorium (entrance on St. John Ave.) for $10. Parking purchased onsite is cash only.
Proof of Vaccination: The Pasadena Symphony is committed to providing the safest possible setting for the community and will require all concertgoers to be fully vaccinated, including a booster dose for those who are eligible to attend concerts at Ambassador Auditorium. For protocols, visit: pasadenasymphony-pops.org/symphony-covid-safety/