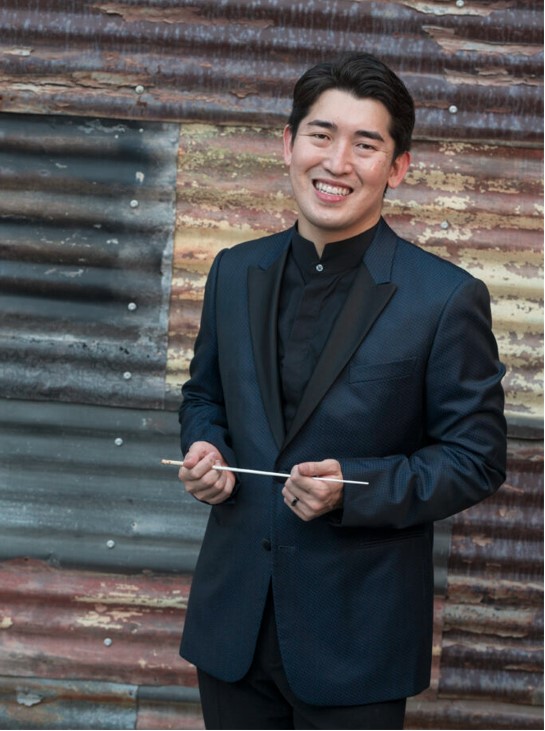 Pasadena, CA – The Pasadena Symphony concludes its season on Saturday, April 30 with the four most well-known notes in Classical music – Beethoven's Symphony No. 5. Relentless, emotional and triumphant all describe Beethoven's most famous symphony, which will be led by internationally renowned conductor Keitaro Harada, who currently serves as Music Director of the Savannah Philharmonic and Associate Conductor of the Tokyo Symphony Orchestra, and who is making his debut with the Pasadena Symphony as part of its search for a new Music Director. The program opens with the world premiere of In Nomine by Composers Showcase artist Brett Banducci, performed by the orchestra's Principal Horn James Thatcher. Technically dazzling and intellectually probing, pianist Ran Dank delivers passion and pyrotechnics with Prokofiev's Piano Concerto No. 3. Dank replaces pianist Valentina Lisitsa who was previously scheduled to perform. Performances will be held at 2:00pm and 8:00pm at Ambassador Auditorium.
Dank recently performed at the National Gallery in Washington, D.C., with the Portland Symphony, and in recitals at the San Francisco Performances Series, Gilmore, Ravinia, Carnegie Hall's Zankel and Weill Halls, Steinway Hall, Gardner Museum, Kennedy Center and the Yale School of Music. His performances have garnered critical acclaim from The New York Times and the Washington Post.
The Pasadena Symphony holds the safety of its audience, staff and musicians as its top priority. The Pasadena Symphony requires all concertgoers to be fully vaccinated, including a booster dose for those who are eligible, to attend concerts at Ambassador Auditorium. Masks are now optional inside the venue. Covid-19 protocols for concerts at Ambassador Auditorium are evolving with L.A. County Health Department guidelines and will be updated here: pasadenasymphony-pops.org/safety.
To learn more about the music, come early for Insights – a free pre-concert dialogue with Conductor Keitaro Harada and Composer Brett Banducci, which begins one hour prior to each performance. Patrons who arrive early can also enjoy a drink or a bite in the outdoor, tented Rusnak Symphony Lounge. A posh setting along Ambassador Auditorium's beautiful outdoor plaza, patrons enjoy uniquely prepared menus for both lunch and dinner at each concert by Claud & Co and a full bar and fine wines from the Michero Family serving Riboli Family Wines before the concert and during intermission. In order to provide the safest possible experience, all food must be pre-ordered. For more information, visit: bit.ly/symphony-dining. 
All concerts are held at The Ambassador Auditorium, 131 South St. John Ave, Pasadena, CA. Single tickets start at $35 and may be purchased online at pasadenasymphony-pops.org, by calling (626) 793-7172 or at the Ambassador Box Office starting at noon on concert days.
What: The Pasadena Symphony presents Beethoven Symphony No. 5
        Keitaro Harada, conductor
        Ran Dank, piano
        James Thatcher, horn
        Brett Banducci                In Nomine (World Premeire)
        Prokofiev                        Piano Concerto No. 3
        Beethoven                      Symphony No. 5

When: Saturday, April 30, 2022 at 2:00pm and 8:00pm
Where: Ambassador Auditorium | 131 South St. John Avenue, Pasadena, CA 91105
Cost: Tickets start at $35.00
Parking: Valet parking is available on South St. John directly past the auditorium for $20. General parking is available in two locations: next to the Auditorium (entrance on St. John Ave) at the covered parking structure for $10 and directly across Green street at the Wells Fargo parking structure (entrance on Terrace at Green St). ADA parking is located at the above-ground parking lot adjacent to the Auditorium (entrance on St. John Ave.) for $10. Parking purchased onsite is cash-only.
Proof of Vaccination: The Pasadena Symphony is committed to providing the safest possible setting for the community and will require all concertgoers to be fully vaccinated, including a booster dose for those who are eligible to attend concerts at Ambassador Auditorium. For protocols, visit: pasadenasymphony-pops.org/symphony-covid-safety/.