March 1, 2022
Tickets on sale now for the six concert series from June 25  – September 10, 2022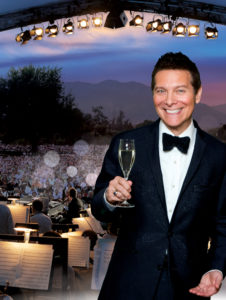 Pasadena, CA – Principal Pops Conductor Michael Feinstein and the Pasadena POPS announce the expansion of the POPS Summer Concert series to six concerts beginning Summer 2022 at the Los Angeles County Arboretum. The POPS is also proud to welcome Rusnak Auto Group as the Official Season Sponsor for the POPS Summer Concert Series. The six-concert series will run from June 25, 2022 to September 10, 2022 with a stellar line-up of multiple award-winning guest artists including Grammy-award winning singer Melissa Manchester, SAG Award winner LaChanze (The Help), Tony nominees Tony Yazbeck and Michael Cavanaugh and Tony Award winner Lillias White, plus Michael Feinstein in concert.
Feinstein heats up the summer on June 25 with Sway With Me: Latin Rhythm and Swing, joined by Latin American television and Broadway stars Mauricio Martinez and Margo Rey. The sizzling season opener will feature songs like Brazil, Sway and Girl from Ipanema, made famous by Carmen Miranda, Desi Arnaz, Pink Martini and more.  On July 9 Michael takes the stage as soloist to bring the best of Gershwin as only he can for Michael Feinstein Sings Gershwin. Broadway star and sought-after concert artist Capathia Jenkins channels the Queen of Soul on July 23 for Aretha: A Tribute, accompanied by singer Matthew Johnson.
August 13 brings Melissa Manchester with Jazz songstress Nicole Henry and Hairspray Live's Maddie Baillio to celebrate the centennials of Judy Garland, Doris Day and Peggy Lee, and give a nod to Liza Minnelli and Garland's legacy for American Icons: Judy Garland & Friends. Back by popular demand, "the new voice of the American Rock and Roll Songbook" (Billboard), Michael Cavanaugh lights up the stage on August 27 for a rockin' tribute to Billy Joel and Elton John. To close out the season on September 10, Feinstein has curated the best of hit shows that traveled from Broadway to Hollywood for Broadway on Film, featuring an evening of singing and dancing by Tony Award-winning and nominated performers Lillias White, LaChanze and Tony Yazbeck.
The POPS Covid-19 safety protocols are evolving along with public health guidelines and will be updated closer to the summer. For the most up to date venue safety guidelines and ticketing requirements, visit pasadenasymphony-pops.org/covid-19-safety-protocols-pops.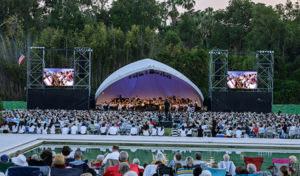 All concerts are held at the Los Angeles County Arboretum and Botanic Garden, located at 310 N. Baldwin Ave, Arcadia, CA. Grounds open for picnicking and dining at 5:30pm and performances begin at 7:30pm. Don't miss the best outdoor dinner party in town with spacious circular table seating with fine linens, or lawn seating for those who want to bring a blanket – each option carries on the tradition of picnic-dining with your family and friends with Michael Feinstein and the San Gabriel Valley's premier orchestra! Among many venue amenities, concert goers can enjoy pre-ordered gourmet box dinners for on-site pickup just steps from their table or a variety of food truck options. Subscribers may purchase pre-paid onsite parking at the Arboretum, and all concertgoers can purchase guaranteed and convenient parking at Santa Anita Park, with complimentary non-stop shuttle service to the Arboretum's main entrance.
Tickets start at $25. Season subscriptions are now on sale, with single tickets on sale March 7, 2022. Both are available by calling the box office at (626)-793-7172, online at PasadenaSymphony-Pops.org or at the Arboretum on concert days.
2022 Rusnak Summer Concert Series Calendar
Sway With Me: Latin Rhythms & Swing!
June 25, 2022
Michael Feinstein, conductor
Mauricio Martinez, soloist
Margo Rey, soloist
Michael Feinstein Sings Gershwin
July 9, 2022
Larry Blank, conductor
Michael Feinstein, soloist
Aretha: A Tribute
July 23, 2022
Larry Blank, conductor
Capathia Jenkins, soloist
Matthew Johnson, soloist
American Icons: Judy Garland & Friends
August 13, 2022
Michael Feinstein, conductor
Melissa Manchester, soloist
Nicole Henry, soloist
Maddie Baillio, soloist
Michael Cavanaugh Sings Billy Joel & Elton John
August 27, 2022
Larry Blank, conductor
Michael Cavanaugh, soloist
Broadway on Film
September 10, 2022
Michael Feinstein, conductor
LaChanze, soloist
Lillias White, soloist
Tony Yazbeck, soloist