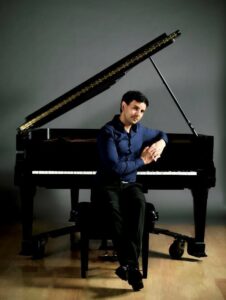 January 3, 2023
Pasadena, CA – The Pasadena Symphony kicks off the new year with Mendelssohn & Mozart on Saturday, January 21, 2023 at Ambassador Auditorium with both matinee and evening performances at 2:00pm and 8:00pm. Acclaimed conductor Joseph Young, who serves as Music Director of the Berkeley Symphony among other major posts across the US, returns as Artistic Partner to lead the orchestra on an aural journey through the Italian countryside with Mendelssohn's Symphony No. 4 "Italian".
The highlight of January's concert will be Mozart's superb Piano Concerto No. 20, performed by the "electrifying and unforgettable" Vijay Venkatesh, a young pianist "blessed with it all: transcendent technique, unbridled passion, and irresistible charisma. He breathes with an oxygen of imagination" (Washington Post ). The Composer's Showcase will open the concert with Grammy-nominated composer Anna Clyne's Sound and Fury. Inspired by Shakespeare's Macbeth soliloquy and Haydn's 60th Symphony, this opening piece will leave the audience invigorated by its ferocious string gestures and reflective with its haunting melodies.
The Pasadena Symphony provides a vibrant experience specially designed for the music lover, the social butterfly or a date night out. Guests can arrive early to enjoy the outdoor, tented Symphony Lounge, which opens 2 hours prior to show time. A posh setting along Ambassador Auditorium's beautiful outdoor plaza, the Symphony Lounge offers sandwiches, salads and desserts by Love Birds, coffee, cocktails and fine wines from The Michero Family, before the concert and during intermission.
All concerts are held at Ambassador Auditorium, 131 South St. John Ave, Pasadena, CA. Subscription packages start at as low as $99, with single tickets starting at $40. Both may be purchased online at www.pasadenasymphony-pops.org or by calling (626) 793-7172.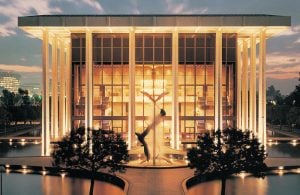 The Pasadena Public Health Department recommends all guests either be fully vaccinated or obtain a negative COVID-19 test prior to entry to Ambassador Auditorium, but it is not required. Masks are strongly recommended but not required. As conditions in the community evolve, the Pasadena Symphony reserves the right to update policies with a focus on public safety. For the most up to date venue safety protocols, visit pasadenasymphony-pops.org/symphony-covid-safety/.
What: The Pasadena Symphony presents Mendelssohn & Mozart
Joseph Young, conductor
Vijay Venkatesh, piano
Anna Clyne                     Sound and Fury
Mozart                             Piano Concerto No. 20
Mendelssohn                   Symphony No. 4 "Italian"
When: Saturday, January 21, 2023 at 2:00pm and 8:00pm
Where: Ambassador Auditorium | 131 South St. John Avenue, Pasadena, CA 91105
Cost: Tickets start at $40.00
Parking: Valet parking is available on St. John Ave for $15. General parking is available in two locations: next to the Auditorium (entrance on St. John Ave) at the covered parking structure for $10 and directly across the street at the Wells Fargo parking structure (entrance on Terrace at Green St). ADA parking is located at the above-ground parking lot adjacent to the Auditorium (entrance on St. John Ave.) for $10. Parking may be pre-purchased or purchased onsite. Parking purchased onsite is cash only.