Acclaimed guest conductors Brett Mitchell, Ward Stare, Kensho Watanabe, Kyle Dickson, François López-Ferrer, Linhan Cui and Jenny Wong will serve as Artistic Partners for the 2023/24 season
Pasadena, CA – Pasadena Symphony announces its 2023/24 season with an exhilarating schedule of seven performances, running October 21, 2023 through April 20, 2024. Season highlights include piano powerhouse concertos with Rachmaninoff Rhapsody on a Theme of Paganini, Tchaikovsky Piano Concerto No. 1 and Beethoven "Emperor" alongside stunning violin concertos of Mendelssohn, Beethoven and Vivaldi's Four Seasons. Experience how simultaneously intimate and Technicolor symphonic music can be at the Ambassador Auditorium with Tchaikovsky Symphony No. 4, Elgar's Enigma Variations, Sibelius Symphony No. 2 and Stravinsky's Firebird Suite. The season also includes the annually sold-out Holiday Candlelight Concert on Saturday, December 16, 2023 with 4pm and 7pm performances at All Saints Church.
The season's impressive line-up of internationally renowned guest artists includes conductor Brett Mitchell, who will return to open the season October 21st for Tchaikovsky 4 with Yehudi Menuhin International Competition winner Diana Adamyan; Grammy-nominated conductor Ward Stare for Rachmaninoff Rhapsody on a Theme of Paganini, performed by award-winning pianist Natasha Paremski; Kensho Watanabe returning to conduct Beethoven "Emperor" with Avery Fisher Career Grant winner George Li; Salonen Conducting Fellow Kyle Dickson for Tchaikovsky Piano Concerto No. 1 performed by Concert Artists Guild International Competition winner Wynona Wang; François López-Ferrer returning to conduct Beethoven Violin Concerto with the "frighteningly awesome" (Buffalo News) talent of violinist Francisco Fullana; and Dudamel Conducting Fellow Linhan Cui for Vivaldi's Four Seasons with Colburn artist Charlotte Marckx.
The Pasadena Symphony's fourth annual Composer's Showcase kicks off with Mason Bates' Garages of the Valley, inspired by the digital age that was dreamed up in the most low-tech of spaces dotting the landscape of Silicon Valley; followed by Patrick Harlin's Earthrise, inspired by the iconic and arguably the most important environmental photo taken by astronaut Bill Anders on the first-ever trip around the moon. Harlin's piece is part of the California Festival: A Celebration of New Music, conceived by LA Phil Music & Artistic Director Gustavo Dudamel, San Diego Symphony Music Director Rafael Payare and San Francisco Symphony Music Director Esa-Pekka Salonen to highlight the collaborative and innovative spirit that thrives in California. The season continues with Jessica Hunt's Climb inspired by her shared struggle with Beethoven, in overcoming physical adversities; Jessie Montgomery's Strum, which draws upon American folk idioms and the spirit of dance; Shawn Okpebholo's Stomp the Dust! which showcases the colorful essence of Kenya and musically depicts the arid terrain, dancing and pleas for rain; and Si'ang Chen's beautifully sonorous Adagio.
The Pasadena Symphony provides a quintessential experience specially designed for the music lover, the social butterfly or a date night out, and the inner epicurean in us all. Audiences can enjoy a pre-concert meal at nearby restaurants in Old Town Pasadena or have a drink and a bite in the lively outdoor Symphony Lounge. A posh setting at Ambassador Auditorium's beautiful outdoor plaza, the Lounge offers uniquely prepared menus for both lunch and dinner and a full service bar before each concert and during intermission.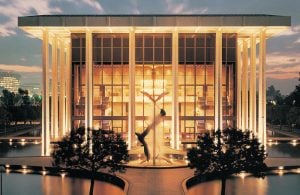 All Pasadena Symphony concerts take place at Ambassador Auditorium, 131 S. St. John Avenue, Pasadena, CA 91105, with performances at 2pm and 8pm. Subscription packages start at $99 with single tickets starting at $40. Both may be purchased online at pasadenasymphony-pops.org or by calling (626) 793-7172.
Pasadena Symphony 2023-24 Calendar
TCHAIKOVSKY 4
October 21, 2023
Brett Mitchell, conductor
Diana Adamyan, violin
Mason Bates Garages of the Valley
Mendelssohn Violin Concerto No
Tchaikovsky Symphony No.4
RHAPSODY ON A THEME OF PAGANINI
November 18, 2023
Ward Stare, conductor
Natasha Paremski, piano
Patrick Harlin Earthrise
Rachmaninoff Rhapsody on a Theme of Paganini
Elgar Enigma Variations
HOLIDAY CANDLELIGHT
December 16, 2023
Jenny Wong, conductor
Soloist, tba
BEETHOVEN EMPEROR
January 27, 2024
Kensho Watanabe, conductor
George Li, piano
Jessica Hunt Climb
Kodály Dances of Galánta
Beethoven Piano Concerto No. 5 "Emperor"
TCHAIKOVSKY PIANO CONCERTO NO. 1
February 17, 2024
Kyle Dickson, conductor
Wynona Wang, piano
Jessie Montgomery Strum
Tchaikovsky  Piano Concerto No. 1
Sibelius Symphony No. 2
BEETHOVEN VIOLIN CONCERTO
March 23, 2024
François López-Ferrer, conductor
Francisco Fullana, violin
Shawn Okpebholo Kutimbua Kivumbi (Stomp the Dust!)
Beethoven Violin Concerto
Stranvinsky The Firebird Suite
VIVALDI FOUR SEASONS
April 29, 2024
Linhan Cui, conductor
Charlotte Marckx, violin
Si'ang Chen Adagio
Bach Brandenburg Concerto No. 3
Puccini Crisantemi
Vivaldi Four Seasons