March 8, 2023
Tickets on sale now for the six-concert series from June 24  – September  9, 2023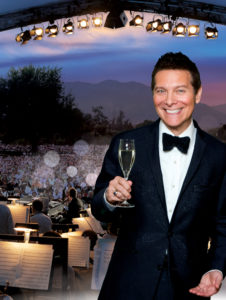 Pasadena, CA – Principal Pops Conductor Michael Feinstein and the Pasadena POPS announce the 2023 Rusnak Summer Concert series at the Los Angeles County Arboretum. The six-concert series will run from June 24 to September 9, 2023 with a stellar line-up of multiple award-winning guest artists including Pink Martini's larger-than-life Storm Large, Grammy Award-winning singer Catherine Russell, Emmy Award winner Clint Holmes and two-time Tony Award winner Christine Ebersole, plus the multiple Grammy and Emmy-nominated Michael Feinstein in concert. The POPS summer season offers something for everyone with an exciting mix of sound from Hollywood, Broadway and Las Vegas to the music of Ella Fitzgerald, Tina Turner, Marvin Gaye, The Temptations and Queen.
Feinstein heats up the summer on June 24 with Divas through the Decades, joined by the sultry sounds of Jazz songstresses Nicole Henry and Catherine Russell, plus Motown singer Freda Payne to celebrate powerful black women who shaped the American Songbook. The sizzling season opener will feature music from Ella Fitzgerald, Billie Holiday and Nina Simone to Natalie Cole, Tina Turner and beyond. On July 15 the Kings of Soul take the stage to sing the hit songs of Marvin Gaye, James Brown, Otis Redding, The Temptations, Al Green and Smokey Robinson with Soul Man, Shop Around, Get Ready, Move On Up, Your Love Keeps Lifting Me Higher and more. Principal Pops Conductor Michael Feinstein puts down the baton and picks up the mic for one night only as soloist on July 29 to salute the giants of Broadway with music from Stephen Sondheim, Marvin Hamlisch, Cole Porter, Jerry Herman, John Kander, Stephen Schwartz and much more for Michael Feinstein Sings Broadway.
On August 12, Storm Large, Clint Holmes and Matthew Johnson bring a slice of Sin City to the Arboretum for Viva Las Vegas. Hear the stories behind the singers who made Las Vegas the entertainment capital of the world with songs from Frank Sinatra, Sammy Davis Jr., Dean Martin, Ann-Margret and Elvis. The POPS Will Rock You on August 26 with the Music of Queen featuring chart-toppers Another One Bites the Dust, Under Pressure, Fat Bottomed Girls, Crazy Little Thing Called Love, Somebody to Love, Bohemian Rhapsody and We Are the Champions. Feinstein closes the season September 9 with Two-time Tony Award winner and Broadway legend Christine Ebersole for Hollywood Blockbusters: Mancini to Williams, paying tribute to the music that made Hollywood a hit parade from beloved film composers Henry Mancini, Johnny Mandel and Ennio Morricone to John Williams, Hans Zimmer, Jerry Goldsmith and Michael Giacchino.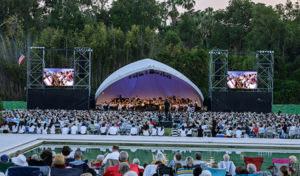 All concerts are held at the Los Angeles County Arboretum and Botanic Garden, located at 301 North Baldwin Ave, Arcadia, CA. Grounds open for picnicking and dining at 5:30pm and performances begin at 7:30pm. Don't miss the best outdoor dinner party in town with spacious circular table seating with fine linens, or lawn seating for those who want to bring a blanket – each option carries on the tradition of picnic-dining with your family and friends with Michael Feinstein and the San Gabriel Valley's premier orchestra! Among many venue amenities, concert goers can enjoy pre-ordered gourmet box dinners for on-site pickup just steps from their table, two full-service beverage centers, or a variety of food truck options.
Subscribers may purchase pre-paid onsite parking at the Arboretum, and all concertgoers can purchase guaranteed and convenient parking at Santa Anita Park, with complimentary non-stop shuttle service to the Arboretum's main entrance. Season subscriptions and single tickets, starting at $30, are now on sale and available by calling the box office at (626) 793-7172, online at pasadenasymphony-pops.org/tickets or at the Arboretum on concert days.
2023 Rusnak Summer Concert Series Calendar
Divas Through the Decades
June 24, 2023
Michael Feinstein, conductor
Nicole Henry, soloist
Freda Payne, soloist
Catherine Russell, soloist
Kings of Soul
July 15, 2023
Larry Blank, conductor
Kings of Soul, special guests
Michael Feinstein Sings Broadway
July 29, 2023
Larry Blank, conductor
Michael Feinstein, soloist
Viva Las Vegas!
August 12, 2023
Michael Feinstein, conductor
Clint Holmes, soloist
Matthew Johnson, soloist
Storm Large, soloist
Music of Queen
August 26, 2023
Larry Blank, conductor
Music of Queen, special guests
Hollywood Blockbusters: Mancini to Williams
September 9, 2023
Michael Feinstein, conductor
Christine Ebersole, soloist