April 6, 2023
Pasadena, CA The Pasadena Symphony closes out its 22/23 season with An American in Paris at Ambassador Auditorium on Saturday, April 29, 2023 with matinee and evening performances at 2:00pm and 8:00pm. Emerging international conductor Kensho Watanabe will make his Pasadena debut, taking audiences on an aural journey through the City of Lights with Gershwin's iconic An American in Paris to open the show. Barber's exquisite Violin Concerto follows, performed by Avery Fisher Winner Tai Murray, whose playing has been described as "technically flawless, vivacious and scintillating" (Muso Magazine).
Grammy-nominated composer Carlos Simon rounds out the third annual Composer's Showcase with The Block, inspired by Romare Bearden's paintings portraying the rich energy that Harlem expressed as the hotbed for African American culture. Finally, Rachmaninoff's final and arguably best orchestral work, Symphonic Dances concludes the program with electrifying modern rhythms that will keep audiences on the edge of their seats. This is one season finale you won't want to miss!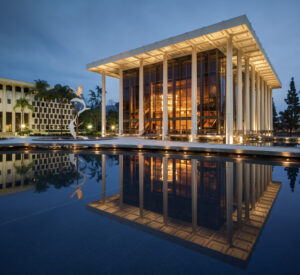 The Pasadena Symphony provides a vibrant experience specially designed for the music lover, the social butterflyor a date night out. Patrons can enjoy a pre-concert meal at many nearby restaurants in Old Town Pasadena or have a drink and a bite in the lively outdoor, tented Symphony Lounge, which opens two hours prior to show time. A posh setting along Ambassador Auditorium's beautiful outdoor plaza, the Lounge offers sandwiches, salads and desserts by Love Birds, plus coffee, cocktails and fine wines from The Michero Family before the concert and during intermission.
All concerts are held at Ambassador Auditorium, 131 South St. John Ave, Pasadena, CA. Single tickets starting at $40 and may be purchased online at www.pasadenasymphony-pops.org or by calling (626) 793-7172.
What: The Pasadena Symphony presents An American in Paris
Kensho Watanabe, conductor
Tai Murray, violin
Gershwin                 An American in Paris
Barber                      Violin Concerto
Carlos Simon           The Block
Rachmaninoff           Symphonic Dances
When: Saturday, April 29, 2023 at 2:00pm and 8:00pm
Where: Ambassador Auditorium | 131 South St. John Avenue, Pasadena, CA 91105
Cost: Tickets start at $40.00
Parking: Valet parking is available on St. John Ave for $15. General parking is available in two locations: next to the Auditorium (entrance on St. John Ave) at the covered parking structure for $10 and directly across the street at the Wells Fargo parking structure (entrance on Terrace at Green St). ADA parking is located at the above-ground parking lot adjacent to the Auditorium (entrance on St. John Ave.) for $10. Parking may be pre-purchased or purchased onsite. Parking purchased onsite is cash only.