Acclaimed conductors Keitaro Harada, Nic McGegan, Brett Mitchell, Anna Rakitina, Jenny Wong, Lidiya Yankovskaya and Joseph Young will serve as Artistic Partners and lead the orchestra for the 21/22 season
The Pasadena Symphony's annual Composers Showcase will feature works from musicians who are shaping the future of classical music with Brett Banducci, Gabriela Frank, Jessie Montgomery, Nkeiru Okoye, Adam Schoenberg and Gabriella Smith
The Pasadena Symphony is committed to providing the safest possible setting for the community and will require all concertgoers to be fully vaccinated to attend concerts at Ambassador Auditorium. For protocols, visit: pasadenasymphony-pops.org/symphony-covid-safety/
Pasadena, CA – Pasadena Symphony announces its 94th season with an exhilarating schedule of seven concerts, running October 16, 2021 through April 30, 2022. Alongside a stellar program of celebrated classical works and guest artists, the symphony introduces seven conductors who will serve as Artistic Partners, each bringing a new and diverse voice to the podium and the Pasadena community. The annual Composers Showcase for the 2021-22 season will feature works by both emerging and established contemporary composers at each concert, including one world premiere by Brett Banducci. Music Director David Lockington will be on a leave of absence for the season. All concerts take place at Pasadena's Ambassador Auditorium with both matinee and evening performances at 2pm and 8pm. The season also includes the annually sold-out Holiday Candlelight Concert on Saturday, December 18, 2021 with both 4pm and 7pm performances at All Saints Church.
"We are excited to finally bring our full orchestra back to work indoors this October to our home at the acoustically exquisite Ambassador Auditorium," says Lora Unger, CEO adding "we'll be welcoming the community back to indoor concerts safely, ensuring all are vaccinated both in the audience and on stage. This season's lineup of conductors, guest artists and featured composers represents a diversely powerful voice of the future of classical music and we're honored to bring the joy of live music back to the concert hall where it belongs."
Conductor Joseph Young and violinist Randall Goosby kick off the 2021/22 season on October 16 with Beethoven Symphony No. 7 and Brahms Violin Concerto, and Anna Rakitina leads the orchestra on November 13th with Dvořák's Symphony No. 9 "New World" alongside Gershwin's Rhapsody in Blue with pianist Llewellyn Sanchez-Werner. Conductor Jenny Wong will ring in the holidays with the orchestra at its annual Holiday Candlelight Concert on December 18. Performance specialist Nicholas McGegan returns to lead the orchestra's annual Baroque concert on January 22 with Vivaldi's Gloria and Bach's Brandenburg Concerto No. 5; Lidiya Yankovskaya and virtuoso violinist Chee-Yun bring Tchaikovsky's Violin Concerto and Romeo and Juliet to the stage on February 12; Brett Mitchell and pianist Aldo López-Gavilán perform Greig's Piano Concerto and Mozart Symphony No. 40 on March 19; and Keitaro Harada closes the season on April 30 with Prokofiev Piano Concerto No. 3 and Beethoven Symphony No. 5.
Fostering the future of classical music is integral to the Pasadena Symphony's mission and the 2021-22 season will usher in the second annual Composers Showcase, featuring the best and brightest contemporary composers on each symphony concert. Jessie Montgomery's Banner opens the season on October 16, with Nkeiru Okoye's Voices Shouting Out on November 13, Gabriella Smith's Brandenburg Interstices on January 22, Gabriela Franks' Elegia Andina on February 12, Adam Shoenberg's Finding Rothko on March 19 and on April 30, the orchestra will perform the world premiere of In Nomine by Brett Banducci.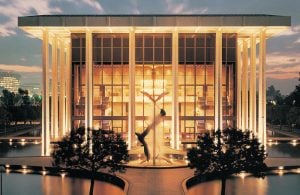 The Pasadena Symphony provides a quintessential experience specially designed for the music lover, the social butterfly or a date night out, and the inner epicurean in us all. Audiences can enjoy a drink or a bite in the lively outdoor Symphony Lounge, yet another addition to the carefree and elegant concert experience the Pasadena Symphony offers. A posh setting at Ambassador Auditorium's beautiful outdoor plaza, the Lounge offers uniquely prepared menus for both lunch and dinner and a full service bar before the concert and during intermission.
All Symphony series concerts take place at Ambassador Auditorium, 131 S. St. John Avenue, Pasadena, CA 91105, with performances at 2pm and 8pm. Subscription packages start at $99 with single tickets starting at $35. Both may be purchased online at pasadenasymphony-pops.org or by calling (626) 793-7172.
Pasadena Symphony 2021-22 Calendar
BEETHOVEN SYMPHONY NO. 7
October 16, 2021
Joseph Young, conductor
Randall Goosby, violin
Jessie Montgomery Banner
Brahms Violin Concerto
Beethoven Symphony No. 7
RHAPSODY IN BLUE
November 13, 2021
Anna Rakitina, conductor
Llewellyn Sanchez-Werner, piano
Nkeiru Okoye Voices Shouting Out
Gershwin  Rhapsody in Blue
Dvořák  Symphony No. 9 "New World"
HOLIDAY CANDLELIGHT
December 18, 2021
Jenny Wong, conductor
Soloist to be announced
Los Angeles Children's Chorus
The Donald Brinegar Singers
L.A. Bronze Handbell Ensemble
BAROQUE BRANDENBURG 5
January 22, 2022
Nicholas McGegan, conductor
Aubree Oliverson, violin 
Martha Chan, flute
Bogang Hwang, harpsichord
Los Angeles Children's Chorus
Pasadena Civic Ballet
Gabriella Smith  Brandenburg-Interstices
Boccherini   Musica notturna delle strade di Madrid
Bach  Brandenburg Concerto No.5
Vivaldi  Gloria
TCHAIKOVSKY VIOLIN CONCERTO
February 12, 2022
Lidiya Yankovskaya, conductor
Chee -Yun, violin
Gabriela Frank   Elegia Andina
Tchaikovsky  Violin Concerto
Tchaikovsky  Romeo and Juliet Fantasy Overture
Rimsky Korsakov  Capriccio espagnol
MOZART SYMPHONY NO. 40
March 19, 2022
Brett Mitchell, conductor
Aldo López-Gavilán, piano
Adam Schoenberg  Finding Rothko
Grieg  Piano Concerto
Mozart Symphony No. 40
BEETHOVEN SYMPHONY NO. 5
April 30, 2022
Keitaro Harada, conductor
Ran Dank, piano
James Thatcher, horn
Brett Banducci In Nomine: 5 Sacred Concerti (world premiere)
Prokofiev Piano Concerto No.3
Beethoven  Symphony No. 5