LA County Arboretum
+ Google Map
301 N. Baldwin Ave




Los Angeles

,

CA

91007

United States

CONCERTS
All POPS concerts are performed at the LA County Arboretum and begin at 7:30 p.m. with gates opening for picnicking at 5:30 p.m. Concerts last approximately two hours, with one brief intermission. All performances will occur, rain or shine. Please dress comfortably and bring a jacket or sweater for the evening as the weather cools. Please be aware that for safety reasons open flames (candles, lanterns, etc.) are not permitted. Smoking is not permitted. Assistance dogs are allowed but no pets are allowed for concerts at the Arboretum.
NEW: Pasadena POPS Table Umbrella Policy. Guests may use umbrellas before the concert to enhance the pre-concert dining experience. However, to ensure the concert experience is enjoyable for everyone, please follow the guidelines below.
Umbrellas will be allowed from 5:30 pm – 7:00 pm. Umbrellas cannot impede on aisles and may not encroach upon neighboring tables or guests. Please note that allowing umbrellas will not ensure complete and total coverage from the sun. The Pasadena POPS reserves the right to adjust, move, or remove umbrellas at it's sole discretion if they do not comply with House Management staff's determination of appropriate umbrella placement.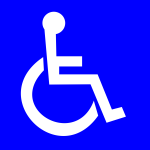 The Pasadena POPS is committed to making our concerts accessible for all patrons.  Click here for accessibility information
DINING OPTIONS
Feel free to bring your own picnic meals and beverages including beer and bottles of wine. For your convenience, guests also have the option to pre-order meals from our preferred restaurant partners for onsite pick-up, or enjoy food from one of several delicious food trucks. A full cash bar, ice cream by Choctal, and beverages will be available inside the venue.
Restaurant Partners:
Claud & Co. –  Orders must be placed no later than 5pm on the Wednesday before concert. To order, email form to 

[email protected]

or call (626) 340-9188.
Julienne – Orders must be placed at least 24 hours before concert. To order, email form to 

[email protected]

 or call (626) 441-2499.
Marston's – Orders must be placed at least 24 hours before concert. To order call (626) 676-5483.
Food Trucks for Universal Studios Favorites – September 9, 2017:
Turn an evening at the Pops into a mini vacation at Hotel Constance with the "Picnic at the Pops" package! Package includes: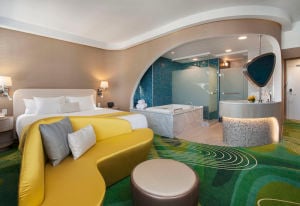 Accommodations for two
3-Course Picnic Dinner for two
Complimentary bottle of Blanc de Blue sparkling wine to enjoy at the POPS
Breakfast for two at Perry's – by Claud Beltran
It's the perfect way to enjoy an entertaining night out in Pasadena!
Click here to book your stay today  or call 626.898.7900.
TABLE SEATING
All seating in the Conductor's Circle, and Sections A, B, C, and D are table seats. We provide round tables for six (48 inches), and tables for ten (60 inches) with tablecloths and chairs. If you do not buy an entire table, you will be seated with other guests. Tickets in these sections are assigned to individual tables but seating at the table is open seating. For the table area, children ages three and over must have a ticket, and be able to sit in their own seats..
LAWN TICKETS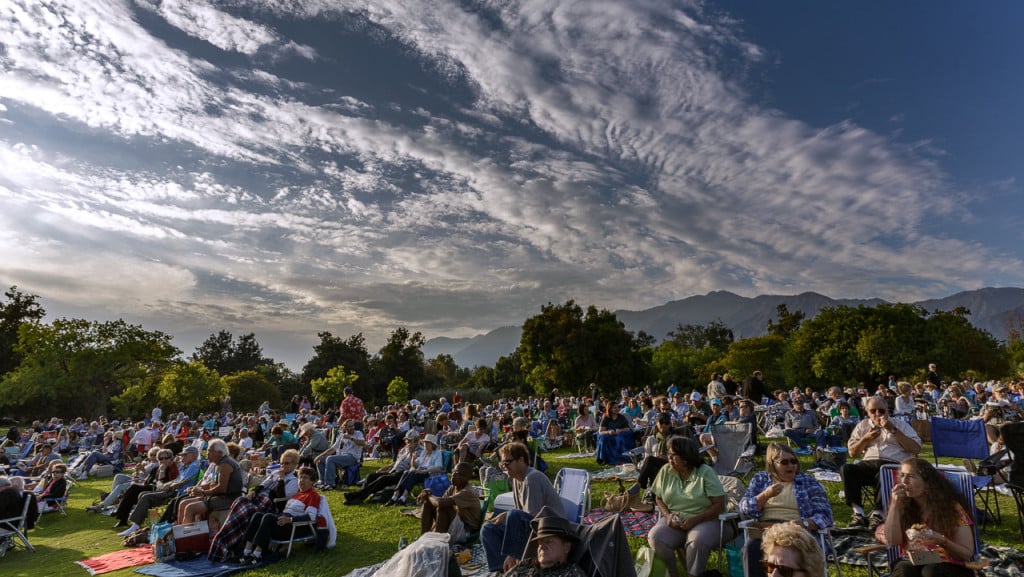 The General Admission Lawn area is located on a large grass field where guests are welcome to picnic before and during the concert. Please bring a chair or blanket. No chairs are provided in the Lawn area. The lawn area is open, non-reserved seating on a first-come, first-served basis.
Lawn tickets are $25 for adults and $10 for kids 14 and under. Children ages two and under do not need a ticket in the Lawn area. Strollers are welcome in the lawn area.
PARKING
PRE-PAID PARKING AT THE ARBORETUM ($12)
Pre-paid onsite parking is on sale now.
Please note all parking at the Arboretum is extremely limited, subject to availability, and may sell out, including accessible (ADA) locations. Parking lots open at 5:00 pm.
If onsite parking at the Arboretum is sold out, please use the options below.
FREE PARKING AT WESTFIELD SANTA ANITA SHOPPING CENTER
Free parking is available at the Westfield Santa Anita Shopping Center (400 S Baldwin Ave, Arcadia, CA 91007). Concert parking is at the northwest corner of the parking lot. Look for parking attendants. Parking entrances are located on Baldwin Ave through Gate 8 or Gate 9. Please follow the direction of the parking staff. Guests with tickets, or who need to purchase additional tickets can enter the Arboretum at the South Gate Entrance by walking to the intersection of Gate 8 and crossing Baldwin Ave. We also provide free shuttle service to the Arboretum's main entrance. Multiple shuttles run continuously from the Westfield Center to the Arboretum Main Gate before, during, and after the concert.  Shuttle service begins at 5:00 pm. Shuttles are ADA and wheelchair accessible.  Will Call is located at the Main Gate Entrance and we recommend using our free shuttle service.
FREE ACCESSIBLE PARKING
Accessible Parking is available at Westfield Santa Anita Shopping Center (free).  We provide free shuttle service to the Arboretum's main entrance.  Multiple shuttles run continuously from Westfield to the Arboretum Main Gate before, during and after the concert.  Shuttles are ADA and wheelchair accessible.
DROP OFF ZONE
All guests can use our drop-off zone to drop off passengers and food items. The drop-off zone is located at the main entrance to the Arboretum, at Arboretum Way.  You will be assisted by the parking staff. You will not be able to leave your car unattended.  The Drop-Off area is available before and after the concert.
TICKET SERVICES
Tickets can be purchased in several ways:
Online: Buy tickets online.
By Phone: (626) 793-7172
In Person: 2 North Lake Ave. #1080, Pasadena, CA 91101 (Monday through Friday 9 – 5 pm).
Onsite: On concert nights starting at 5:30 pm at The Arboretum.
Email: [email protected]. Text (626) 531-1401
Download the brochure with seating chart and ticket order form [PDF]
Ticket Prices
Please check our ticketing page for latest pricing.
Group Tickets
The Pasadena POPS is pleased to offer group discounts. Groups of 20 or more are 20% off with no handling fees. Group discounts are available for all seating sections. Please contact us for more information.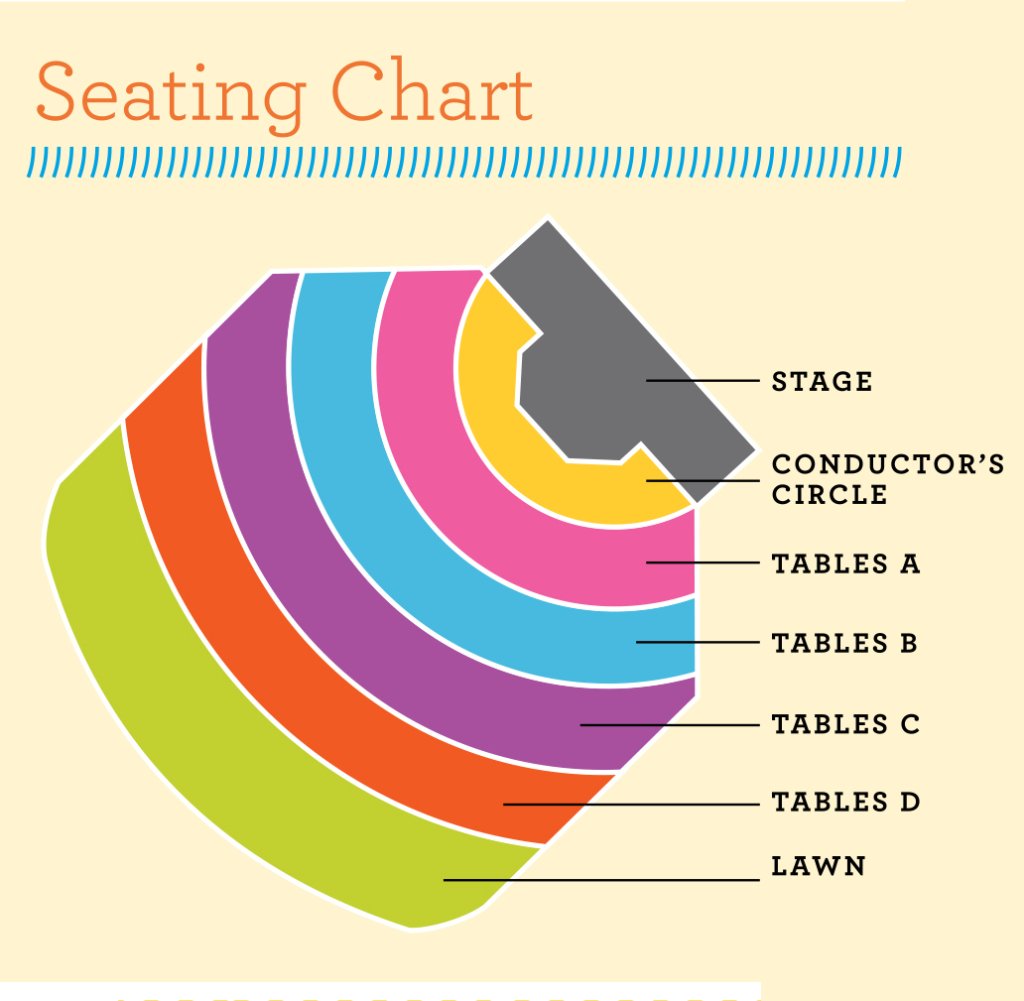 Ticket Policy
All sales are final. No refunds can be made on ticket purchases. Season ticket holders may exchange tickets for another concert in the same series.
If you cannot use your tickets you may donate them back to the Pasadena Symphony and POPS so others may attend. To donate your tickets please contact the box office at [email protected]. We must receive the donation at least 24 hours before the concert. An acknowledgment letter will be mailed to you within 2-3 weeks after the concert for your tax records.
Pasadena Symphony Association is not responsible for lost or stolen tickets or items. Latecomers will be seated at the discretion of the management. One admission per ticket. Programs, dates, times, ticket prices and artists are subject to change. Ticket holder consents to allow PSA to use his or her image for marketing purposes in all media. All performances will occur rain or shine.  Assistance dogs are allowed but no pets are allowed.
No video recording is allowed. Photography is allowed, but please no flash. Share your photos online. Use #paspops on Facebook and Instagram.
SUPPORT THE PASADENA SYMPHONY AND POPS
The Pasadena Symphony Association is a priceless asset to our community. Show your support of live orchestral music by making a contribution to the Pasadena Symphony and Pops. Become a Conductor's Circle Patron, and gain exclusive access to the Conductor's Circle receptions and VIP parking. For more information about supporting the Symphony and POPS call us at 626-793-7172.
August 2021
Michael Feinstein brings you Ol' Blue Eyes' biggest hits and maybe a few you've never heard before, as only the Ambassador of the Great American Songbook can deliver.
Register »
Back by popular demand with a fresh set list of Beatles favorites. Hear Can't Buy Me Love, Here Comes the Sun, Hey Jude and many more, all performed with a full symphony orchestra!
Register »
September 2021
Hear the best of hit shows coming out of The Great White Way from each decade leading up to the present.
Register »
+ Export Events