January 26, 2022
Covid-19 vaccination policy requires booster shots for all eligible concertgoers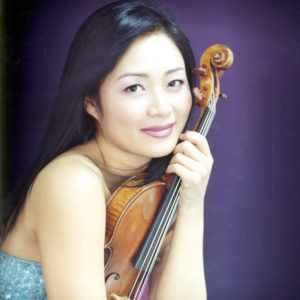 Pasadena, CA – The Pasadena Symphony continues its 2021/22 season with updated Covid-19 vaccination requirements, including boosters for all eligible patrons, staff and musicians. On the heels of a strong turnout for January's annual Baroque concert, the orchestra sets the tone for a romantic Valentine's weekend with Tchaikovsky Violin Concerto on Saturday, February 12 at Ambassador Auditorium with both matinee and evening performances at 2:00pm and 8:00pm. Russian-American conductor and Music Director of Chicago Opera Theater, Lidiya Yankovskaya takes to the podium for the Symphony's ode to romance, which pairs Tchaikovsky's Romeo and Juliet Fantasy Overture with one of the most-loved violin concertos of all time. There's no better way to spend Valentine's than with the most famous love letters ever penned to music.
The show opens with Elegia Andina, a sweet dedication and self-reflection from Gabriela Lena Frank, included in the Washington Post's list of the 35 most significant women composers in history. With a multicultural background of Peruvian, Chinese, Lithuanian and Jewish descent, Frank explores her roots with pulsing Peruvian rhythms glittering throughout the piece. Korean virtuoso Chee-Yun then takes center stage for Tchaikovsky's emotionally stirring Violin Concerto. Hailed by The New York Times as "a talented instrumentalist, with the kind of high-gloss tone that pulls sensuously at the listener's ear," Chee-Yun shows off her chops for Tchaikovsky's technically rigorous masterpiece. Russian passion flows into the second half with the soaring love theme of Tchaikovsky's Romeo and Juliet Fantasy Overture, and the fiery program concludes with the exotic rhythms of Rimsky-Korsakov's Capriccio espagnol, taking the audience on an aural journey to Spain.
In order to provide the safest possible experience for all concertgoers, the Pasadena Symphony has updated its Covid-19 vaccination requirements for performances at Ambassador Auditorium. All patrons who are eligible must have received a COVID-19 booster dose in addition to being fully vaccinated in order to attend this performance. Children 5 years and older who are fully vaccinated, and adults who have been fully vaccinated but are not yet eligible for a booster, will be allowed to attend. Masks are required to be worn inside the venue at all times, with N95, KN95 and Kn94 masks strongly recommended. For the most up to date safety protocols, visit pasadenasymphony-pops.org/symphony-covid-safety/.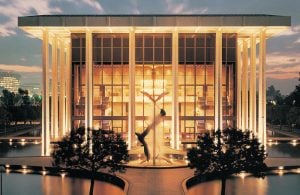 Make it an occasion to remember and treat your Valentine to dinner in the outdoor, tented Rusnak Symphony Lounge, yet another addition to the elegant concert experience the Pasadena Symphony offers. A posh setting along Ambassador Auditorium's beautiful outdoor plaza, patrons enjoy uniquely prepared menus for both lunch and dinner at each concert by Claud & Co, a full bar and fine wines from the Michero Family serving Riboli Family Wines, plus music before the concert and during intermission. In order to provide the safest possible experience, all food must be pre-ordered. For more information, visit: bit.ly/symphony-dining.
All concerts are held at Ambassador Auditorium, 131 South St. John Ave, Pasadena, CA. Subscription packages start at as low as $99. Single tickets start at $35 and may be purchased online at pasadenasymphony-pops.org or by calling (626) 793-7172.
What: The Pasadena Symphony presents Tchaikovsky Violin Concerto
        Lidiya Yankovskaya, conductor
        Chee-Yun, violin
        Gabriela Frank          Elegia Andina
        Tchaikovsky              Violin Concerto
        Tchaikovsky              Romeo and Juliet Fantasy Overture
        Rimsky-Korsakov      Capriccio espagnol
    
When: Saturday, February 12, 2022 at 2:00pm and 8:00pm
Where: Ambassador Auditorium | 131 South St. John Avenue, Pasadena, CA 91105
Cost: Tickets start at $35.00
Parking: Valet parking is available on Green Street for $15. General parking is available in two locations: next to the Auditorium (entrance on St. John Ave) at the covered parking structure for $10 and directly across the street at the Wells Fargo parking structure (entrance on Terrace at Green St). ADA parking is located at the above-ground parking lot adjacent to the Auditorium (entrance on St. John Ave.) for $10. Parking purchased onsite is cash only.
Proof of Vaccination: The Pasadena Symphony is committed to providing the safest possible setting for the community and will require all concertgoers to be fully vaccinated, including a booster dose for those who are eligible to attend concerts at Ambassador Auditorium. For protocols, visit: pasadenasymphony-pops.org/symphony-covid-safety/