Pasadena, CA – Principal Pops Conductor Michael Feinstein and the Pasadena POPS continue the 2018 Sierra Summer Concert Series with a momentous tribute to Leonard Bernstein on Saturday, August 18 at 7:30pm. The POPS presents Bernstein's New York as part of the Leonard Bernstein at 100 centennial being celebrated around the globe, but Feinstein has something more in store for this special performance. Having been lucky enough to know and spend time with Bernstein, Michael will recount first-hand stories from Candide to On the Town and West Side Story
and will give an intimate look inside the legend's friendships with Copland, Sinatra and more. Feinstein will present Bernstein as only he can, examining how the melting pot of the Big Apple influenced his life and music to reveal what made Bernstein "Bernstein".
The POPS will commemorate Bernstein's 100th with an evening full of wide-ranging music. The setlist will cover songs from his enduring Broadway classics, with "Somewhere" and On the Town's "New York, New York," along with the best from his contemporaries, including his close friend Aaron Copland's "Hoe Down" and Sinatra's "New York, New York." Feinstein says of the evening's program, "It was his full embrace of the world of music that made him unique in what he did. It seemed necessary to all of us to create something that would reflect that nature. The concert is not exclusively Bernstein; it also is music that influenced him, music written by his contemporaries, and music he influenced."
A slew of talent will join the POPS orchestra for the special tribute. The guest soloists include Julian Ovenden, who will reprise many of the songs he's performed from Bernstein's cannon throughout the years. Ovenden has an exceptional voice and is particularly adept at the music of Leonard Bernstein, though most know him for his many screen credits, notably Downton Abbey, Person of Interest, and Smash. La Cañada native Finn Sagal brings youth and charisma to the stage, with his larger-than-life voice. This rising star is one to watch – he is the winner of the 2017 Songbook Academy® Award, and currently serves as the Great American Songbook Youth Ambassador.
All concerts are held at the Los Angeles County Arboretum and Botanic Garden. Grounds open for picnicking and dining at 5:30pm and performances begin at 7:30pm. Don't miss the best outdoor dinner party in town with spacious circular table seating with fine linens, or lawn seating for those who want to bring a blanket – each option carries on the tradition of picnic-dining with your family and friends with Michael Feinstein and Pasadena's premier orchestra! Among many venue amenities, concert goers can enjoy pre-ordered gourmet dining packages for on-site pickup just steps from their table from Julienne, Marston's and Claud & Co. The venue also hosts mouth-watering food trucks and the convenience of two full beverage centers serving fine wines, beer, coffee and soft drinks.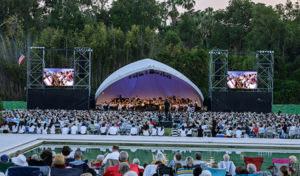 Audiences get the ultimate outdoor concert experience with large LED video screens to see the artists and orchestra up close, superior sound and the high-quality production value that is a signature of the Pasadena POPS. For those who want to make a night of it, exclusive hotel packages are available for POPS patrons at Pasadena's landmark Hotel Constance.
The Arboretum is located at 301 North Baldwin Ave., Arcadia, CA. Subscribers may pre-purchase parking on-site at the Arboretum, and all concertgoers enjoy free parking at the adjacent Westfield Santa Anita shopping center with complimentary non-stop shuttle service to the Arboretum's main entrance.
Single tickets start at $25 and are available by calling the box office at (626)-793-7172, online at PasadenaSymphony-Pops.org or at the Arboretum on the day of the concert.
What: The Pasadena POPS presents Bernstein's New York
Michael Feinstein, Principal Pops Conductor, Tom & Erika Girardi Chair
Julian Ovenden & Finn Sagal, soloists
When: August 18, 2018 at 7:30pm
Where: The LA County Arboretum | 301 N Baldwin Ave., Arcadia, CA 91007
Cost: Tickets start at $25.00
Dining: Gates open at 5:30pm for picnicking. Guests are welcome to bring their own food and drink or visit one of the many onsite food vendors.
Parking: Subscribers have the opportunity to purchase onsite Arboretum parking. Single ticket holders may park for free at the Westfield Santa Anita shopping center with free non-stop shuttles to the main gate.