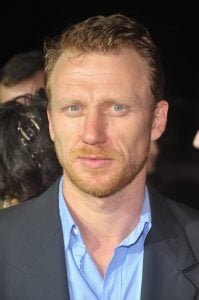 Kevin McKidd
Soloist
Kevin McKidd is a well-known Scottish actor. He was born and spent his childhood in Elgin, Moray, Scotland. He is best known for his portrayal of Tommy in the film Trainspotting and his work on the critically acclaimed television show Rome.
As a teenager, he was part of a rock band called Plan 9. The group achieved a moderate amount of success and toured all over Scotland. He got into acting at a young age, joining the local Moray Youth Theatre group as a teenager. He shifted gears, however, and enrolled at the University of Edinburgh with a focus on engineering. He soon dropped out though and switched to the Queen Margaret College to study drama. Kevin fully immersed himself in his studies, even joining the University's student theatre company, Bedlam Theatre.
Kevin landed his first television role in 1996, playing Father Deegan in the British sitcom Father Ted. This led to his seminal role in the international hit Trainspotting and several small parts on British serials and miniseries.
In 2002, he caught the eye of acclaimed director Ridley Scott. Ridley cast him against Orlando Bloom and Liam Neeson in his war epic Kingdom of Heaven. This led to further work in films such as Nicholas Nickleby and the Silence of the Lambs prequel Hannibal Rising. 2005 found him cast as Lucius Vorenus in the HBO series Rome. The show received tremendous acclaim and was on the air for two full seasons. In late 2007, McKidd began his role as the lead character in the American fantasy television series Journeyman on NBC.
His role in Rome led to McKidd's casting in the medical drama series Grey's Anatomy as Dr. Owen Hunt. He made his directorial debut in the series' seventh season, directing the episode "Don't Deceive Me (Please Don't Go)". He won the award for "Best Performance in a Drama Series Multi-Episode Storyline" at the 14th Prism Awards for his work in Grey's Anatomy. He played the role of Poseidon, god of the seas, and the father of Percy Jackson in Percy Jackson & the Olympians: The Lightning Thief.
McKidd has done voice work and voiced the character of Jezz Torrent, flame haired lead singer of the fictional Scottish hard rock band Love Fist in the video game Grand Theft Auto: Vice City. He is credited with playing a voice-over for the character John "Soap" MacTavish in Call of Duty: Modern Warfare 2 and Call of Duty: Modern Warfare 3. McKidd was in talks in 2008 to portray Connor MacLeod in a remake of the 1986 fantasy film Highlander, though the role has subsequently been associated with Ryan Reynolds. In 2012, he voiced the characters of Lord MacGuffin and his son Young MacGuffin in the Disney/Pixar film Brave.