December 3 & 4, 2016
Tour:  9:30 am – 4:00 pm
Boutique: 9:00 am – 5:00 pm
Scottish Rite Cathedral, 150 N. Madison Avenue Pasadena, CA 91101
Tickets: $35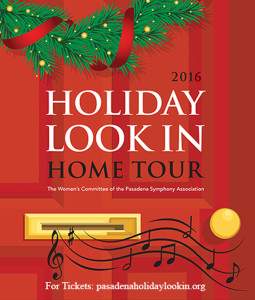 A self-guided tour of four elegant homes decorated for the holidays and an artisanal Holiday Boutique.
The 49th Annual Holiday Look In home tour is a showcase of Pasadena's magnificent architecture, both historical and new, melded with the magic and pageantry of Pasadena's finest floral artists.  Join us in touring four wonderful homes and gardens, decorated for the holidays in festive floral regalia. Enjoy music by Pasadena Symphony members, stroll the gardens and shop to your heart's content at the free boutique.
The location of each home is printed on the tickets.

LA LOMA ROAD
Seasonal Decor By Margit Holakoui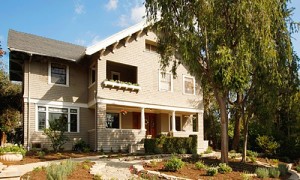 Mr. & Mrs. Charles Browne, pioneers from Massachusetts, built this home in 1884 near the Hotel Greene location on Fair Oaks, before Pasadena was an incorporated city. In 1916, their daughter, Velma Browne Clapp, a music visionary, had been recently widowed and remarried and had this three-story Victorian, chalet-style villa moved to it's current hilltop location on La Loma. Mrs. Clapp, who became Mrs. Blauvert, was the first music director at Throop College (now Cal-Tech) and Throop Unitarian Church and was a Boston Conservatory of Music graduate, noted soprano, music teacher and founder of several women's chorales and music societies in the area. Architect Joseph Blick, designer of the Scottish Rite Cathedral and the Star News Building, was hired to incorporate fashionable Craftsman updates to the home, which resulted in it's listing as a Craftsman style home with the California Registry of Historical Resources.
In commemoration of 100 years of love for music, the home owners, as it's fourth family, have lovingly restored the house to reflect it's period character and charm, repairing its plaster and tiger-wood floors of quarter-sawn oak, rehanging its heavy pocket doors and double hung windows, refinishing and reinstalling its original ornate brass hardware and incorporating their collection of antique furniture and lovely, original period paintings.
ALLENDALE ROAD
Floral Festivities by Drew Domenghini with Patterson's Topiaries, Pots and Teas.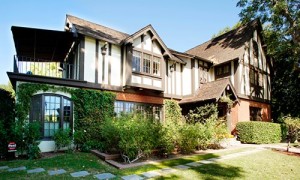 Rose trees line a serpentine brick walkway leading up to this lovely Tudor Revival home. The home, which was originally built for Mr. & Mrs. Charles F. Potter in 1924, is listed in the California Registry of Historical Resources, because of it's fine design and state of preservation. The present owners worked with architect Davie Serrurier to remodel the kitchen, the back room and expand the dining room.
1920s French furniture is featured in the dining room, including a large dining table for entertaining, a beautifully carved buffet and storage cabinet displaying the owner's collection of Meisen and other blue and white ceramic containers. The spacious, eat-in kitchen with Flemish blue painted cabinets features a huge center island and pantry.
The back patio encircles a sinuous Chinese Elm and opens out onto a lush yard, an inviting pool and a guest house, complete with high ceilings, a skylight and an intriguing loft. The back yard oasis and surrounding garden of the property includes oak leaf hydrangeas, lavender star flowers and foxgloves.
LOMITA DRIVE
Contemporary Creations By Jacob Maarse

This Traditional Architecture-Colonial style home was originally built in 1937 for Morris Mill, the founder of Bamico Nursery, located where Armstrong Nursery stands today. As you enter the spacious living room, note the Portuguese needlepoint carpet, commissioned by the owners in 1970. The room includes by a variety of artwork, such as a collection of Tang dynasty ceramics, a stone, 17th century, Thai Buddhist torso and a clay, 15th century, Bayon period head, anchored by a beautiful grand piano in the corner. The dining room walls are wrapped in a panoramic scene of Kew Gardens, which was created by artist George Horton and makes you feel folded into a garden-surround. This machine-printed, wall covering was manufactured in 1920s England and perfectly complements the English dining table and chairs. These are just a few of the artifacts from a lifetime of travels lovingly collected by the owners and displayed throughout the home.
Step through the French doors out onto an expansive lawn and a restructured garden, reflecting design inspirations from the owner's extensive travel experiences. Through the creative genius of landscape designers Thomas Batcheller Cox and James Yuch, the home's one-acre garden was transformed to create a guest casita, allees, vistas and a garden wall. A terrace was added to connect the house to lawns bordered with hedges, a pond, and a pair of ancient Japanese cranes acquired in Kyoto. The expansive garden vista is complemented by a teahouse, a pergola and accentuated by lush collections of roses, camellias, azalea, citrus trees and season vegetables.
BRADFORD STREET
Yuletide Creations By Ixora Floral Studio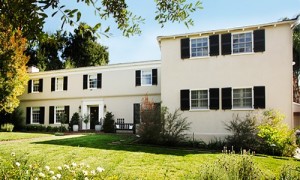 This Colonial-style home built in 1931 by renowned architect Palmer Sabin, is a perfect example of early California design. Set in a park-like setting in the southwest district of Pasadena, the home incorporates many design details original to that period. As you enter the foyer, note the sweeping staircase and the large living room and dining room. To complement the time period, the house is decorated in a traditional, modern style with several eclectic pieces to give it a unique, European flair. The previous owners remodeled the dining room, with the assistance of architect George Corey, adding a crimson leaf patterned wall covering with white wainscoting and crown molding as well as French doors facing the back garden. Landscaping architect Larry Pastere created a stunning, outdoor living room with a large wood burning fireplace and a custom built, iron table for ten. A companion, iron credenza graces the side wall, displaying an antique wheel from India.
The loggia and adjacent pool house serves as a gathering place for family and friends before enjoying the salt water pool and spa. A lush, professionally designed garden featuring an array of pink and fuchsia roses surrounded by tall trees provides complete privacy for this backyard retreat.