Pasadena CA –Tender melodies, powerful choruses, exquisite arias — Mozart's hauntingly beautiful Requiem gets the Pasadena Symphony's 2018-19 season off to a grand start on Saturday, October 20, 2018 at Ambassador Auditorium with both matinee and evening performances at 2:00pm and 8:00pm. Mendelssohn's String Symphony No. 3 and Elgar's Introduction & Allegro round out this deeply-emotive program, culminating in Robert Levin's 20th century completion of Mozart's contentious final masterpiece. Audiences will be blown away by the power of this beautiful and dramatic program that Music Director David Lockington and the Pasadena Symphony have planned to open its 91st season.
Pasadena's most-anticipated opening night of the concert season will envelop audiences with voices from the Donald Brinegar Singers and the JPL Chorus, conducted by Donald Brinegar, alongside four stellar vocalists: soprano Amanda Keenan, mezzo-soprano Tracy Van Fleet, tenor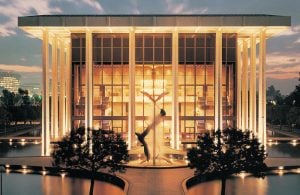 James Onstad and baritone Lee Poulis, twice named Best Young Singer by Die Welt. Audiences may know Onstad from his work with LA's experimental opera company, The Industry, where he recently brought to life the role of Orfeo in their monumental production of Hopscotch – a mobile, immersive operatic experience, which the New Yorker called "awe inspiring." To learn more about the music or the soloists for this performance, join us for Insights – a free pre-concert dialogue with David Lockington, which begins one hour prior to each concert.
The Pasadena Symphony provides a socially vibrant experience specially designed for the music lover, the social butterfly or a date night out, and the inner epicurean in us all. Patrons can plan to arrive early for Insights, a pre-concert discussion with Music Director David Lockington that begins one hour prior to curtain. The luxurious Symphony Lounge provides yet another addition to the delightful and elegant concert experience the Pasadena Symphony offers. A posh setting at Ambassador Auditorium's beautiful outdoor plaza, audiences enjoy uniquely prepared menus for both lunch and dinner at each concert from Claud &Co, fine wines by Michero Family Wines, plus music before the concert and during intermission.
All concerts are held at Ambassador Auditorium, 131 South St. John Ave, Pasadena, CA with both matinee and evening performances at 2pm and 8pm. Single tickets start at $35 and may be purchased online at www.pasadenasymphony-pops.org or by calling (626) 793-7172. A limited number of tickets will be available at the box office on the day of the concert.
What: The Pasadena Symphony presents Mozart Requiem
David Lockington, conductor
Amanda Keenan, soprano
Tracy Van Fleet, mezzo-soprano
James Onstad, tenor
Lee Poulis, baritone
The Donald Brinegar Singers and The JPL Chorus
Donald Brinegar, conductorMendelssohn       String Symphony No. 3
Elgar                   Introduction & Allegro
Mozart                 Requiem
When: Saturday, October 20, 2018 at 2:00pm and 8:00pm
Where: Ambassador Auditorium | 131 South St. John Avenue, Pasadena, CA 91105
Cost: Tickets start at $35.00
Dining: Located on the plaza at Ambassador Auditorium, the Symphony Lounge opens at 12:30pm before the matinee and 6:00pm before the evening performance.
Parking: Valet parking is available on Green Street for $15. General parking is available in two locations: next to the Auditorium (entrance on St. John Ave) at the covered parking structure for $10 and directly across the street at the Wells Fargo parking structure (entrance on Terrace at Green St). ADA parking is located at the above-ground parking lot adjacent to the Auditorium (entrance on St. John Ave.) for $10. Parking purchased onsite is cash only.
Pre-Concert Discussion: Pre-concert discussion with David Lockington begins one hour before curtain and is available to all ticket holders at no cost.