Pasadena, CA – Join the Pasadena Symphony and Principal Guest Conductor Nicholas McGegan as he delivers Baroque Masters on January 26, 2019 at Ambassador Auditorium with performances at 2pm and 8pm. Highly regarded as "one of the finest baroque conductors of his generation" (London Independent), the two-time Grammy nominee will jump start your year as only he can with his historical performance practice bringing a wealth of experience to this popular Baroque repertoire with Bach's Brandenburgs, Vivaldi concertos and Handel's jubilant Water Music. "He's a dynamo, a true animator, an energiser and an ignition point from which music can take off " (Herald Scotland). You won't want to miss this chance to witness the "King" of Baroque interpretation at his finest, as he applies his special craft to these Baroque masterpieces.
For the symphony's entrée to the new year, the virtuosic principal musicians of the Pasadena Symphony orchestra will perform solos for bassoon, violin, cello and viola. Bach's Concerto for Two Violins starts off the program followed by Vivaldi's Cello and Bassoon Concertos. The second half of the program returns to Bach for his beautiful Brandenburg Concerto No.6, leading to the celebratory Suite No. 1. of Handel's famed Water Music. Pasadena's own formidable soloists promise to bring together an absolutely riveting program, all in the masterful hands of Conductor Nicholas McGegan.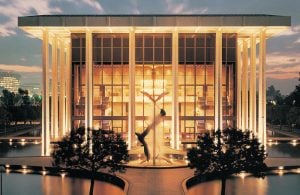 The Pasadena Symphony provides a quintessential experience specially designed for the music lover, the social butterfly or a date night out, and the inner epicurean in us all. For those who want to learn more about the music, join us for Insights – a free pre-concert dialogue with Conductor Nicholas McGegan, which begins one hour prior to each performance. Patrons who plan to arrive early can also enjoy a drink or a bite in the lively Symphony Lounge, yet another addition to the carefree and elegant concert experience the Pasadena Symphony offers. A posh setting along Ambassador Auditorium's beautiful outdoor plaza, the lounge offers uniquely prepared menus from Claud &Co for both lunch and dinner, a full bar and fine wines by Michero Family Wines, plus music before the concert and during intermission.
All Pasadena Symphony performances take place at Ambassador Auditorium, located at 131 South St. John Avenue, Pasadena, CA. Subscriptions start at $99 with single ticket prices starting at $35. Tickets may be purchased online at pasadenasymphony-pops.org or by calling (626) 793-7172.
What: The Pasadena Symphony presents Baroque Masters
Nicholas McGegan, conductor
Rose Corrigan, bassoon
Aimée Kreston, violin
Aaron Oltman, viola
Sara Parkins, violin
Andrew Picken, viola
George Kim Scholes, cello
Bach     Concerto for Two Violins
Vivaldi  Concerto for Cello
Vivaldi  Concerto for Bassoon
Bach     Brandenburg Concerto No. 6
Handel  Water Music Suite No. 1
When: Saturday, January 26, 2019 at 2:00 pm and 8:00 pm
Where: Ambassador Auditorium | 131 South St. John Avenue, Pasadena, CA 91105
Cost: Tickets start at $35.00
Parking: Valet parking is available on St. John Ave for $20. General parking is available in two locations: next to the Auditorium (entrance on St. John Ave) at the covered parking structure, and directly across Green street at the Wells Fargo parking structure (entrance on Terrace at Green St), both for $10. ADA parking is located at the above-ground parking lot adjacent to the Auditorium (entrance on St. John Ave.) for $10. Parking purchased onsite is cash only.
Symphony Lounge: Located on the plaza at Ambassador Auditorium. Opens at 12:30 pm before the matinee and 6:00 pm before the evening performance.
Pre-Concert Discussion: Pre-concert discussion with Conductor Nicholas McGegan begins one hour before curtain and is available to all ticket holders at no cost.