Pasadena, CA – Michael Feinstein and the Pasadena POPS close their popular outdoor summer concert series at the Los Angeles County Arboretum on September 14 with an evening showcasing the legendary films of MGM Studios for MGM Movie Classics. The POPS season finale will provide a quintessential Feinstein experience with Broadway's best singers, dancers, vintage costumes from Hollywood Revisited and rare original arrangements from the golden age of the silver screen as only
Michael Feinstein can deliver. Hear timeless classics from Singin' in the Rain, Meet Me in St. Louis and That's Entertainment plus a special tribute to the 80th anniversary of The Wizard of Oz.
The centerpiece of the concert will be the premiere of the original film chart of "Over the Rainbow," which Feinstein recently uncovered. Original MGM charts are extremely rare, since all of the MGM orchestrations and arrangements were destroyed in the 1960s to cut costs on storage space and became landfill for a golf course and the 405 freeway. Feinstein's lifelong mission is to preserve and share the music of the Great American Songbook, and his acuity for finding a diamond in the rough will make the evening sparkle with a few original MGM charts he's recently discovered, including this rare gem.
"To find any original MGM arrangement is sort of like finding the lost ark, but it seems to be my beautiful Karma to find lost things, musically speaking, and I stumbled across a set of the original parts for it! … it will be a true revelation for people to hear what they have literally never heard before." – Michael Feinstein
Feinstein will be pulling out all the stops for this spectacular season finale with two Tony Award winners singing the songs of Hollywood's Golden Age. Gavin Creel, winner of the 2017 Tony Award for Best Featured Actor in a Musical for his performance in the Broadway revival of Hello, Dolly!, will take the stage for classics like "Singin' in the Rain." Audiences may also know Creel for his recent portrayal of Dr. Pomatter in Waitress or as The Book of Mormon's Elder Price. Tony Award winner Karen Ziemba, will invoke some of Judy Garland's most iconic numbers with "The Trolley Song" and more. Feinstein has even enlisted the "shimmering tones" (Opera News) of opera star Jamie Chamberlin to take on "Love is Where You Find It" with her coloratura soprano.
It's the last chance to catch the best outdoor dinner party in town with spacious table seating and fine linens, or lawn seating for those who want to bring a blanket. Each option carries on the tradition of picnic-dining with your family and friends with Pasadena's premier orchestra! Among many venue amenities, concert goers can enjoy pre-ordered gourmet dining packages for on-site pickup just steps from their table from Julienne, Marston's and Claud & Co. The venue also offers mouth-watering food trucks and the convenience of two full beverage centers serving fine wines, beer, coffee and soft drinks.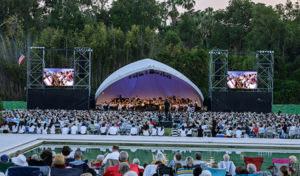 Audiences get the ultimate outdoor concert experience with large LED video screens to see the artists and orchestra up close, superior sound and the high-quality production value that is a signature of the Pasadena POPS. For those who want to make a night of it, exclusive hotel packages are available for POPS patrons at Pasadena's landmark Hotel Constance.
All concerts are held at the Los Angeles County Arboretum and Botanic Garden located at 301 North Baldwin Ave., Arcadia, CA. Grounds open for picnicking and dining at 5:30pm and performances begin at 7:30pm. Subscribers may purchase pre-paid onsite parking at the Arboretum, and all concertgoers can purchase guaranteed and convenient parking at Santa Anita Park, located just across Baldwin Ave. with complimentary non-stop shuttle service to the Arboretum's main entrance.
Single tickets start at $25 and are available by calling the box office at (626)-793-7172, online at PasadenaSymphony-Pops.org or at the Arboretum on the day of the concerts.
What: The Pasadena POPS presents MGM Movie Classics
Michael Feinstein, conductor, Tom & Erika Girardi Char
Gavin Creel, soloist
Karen Ziemba, soloist
Jamie Chamberlin, special guest
When: August 24, 2019 at 7:30pm
Where: The LA County Arboretum | 301 N Baldwin Ave., Arcadia, CA 91007
Cost: Tickets start at $25.00
Dining: Gates open at 5:30pm for picnicking. Guests are welcome to bring their own food and drink or visit one of the many onsite food vendors.
Parking:

Subscribers

have the opportunity to purchase onsite Arboretum parking. Single ticket holders may purchase guaranteed and convenient parking at Santa Anita Park, located just across Baldwin Ave., with non-stop shuttle service to the Arboretum's main entrance for $10.