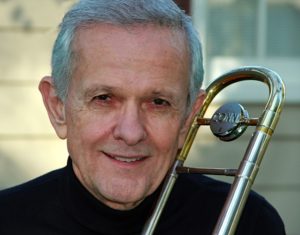 Trombone
Bill Booth's talents and skills cover a broad range of musical performance and teaching experience. His dedication to the musical and personal development of his students is summed up in his philosophy of teaching as – the experience of helping the students discover how to learn.
Bill's own education includes an undergraduate degree in Music Education from the University of Kansas, a Master of Music from Catholic University, and an MBA from the University of Nevada, Las Vegas. He has studied at the Tanglewood Festival and has been a faculty member at UCLA, CSUN and UNLV.
Currently, he is principal trombonist with the Los Angeles Opera, the Hollywood Bowl Orchestra and the Pasadena Symphony. He has also served as principal trombonist with the Pacific Symphony, the American Ballet Theatre Orchestra and the Joffrey Ballet Orchestra and in numerous performances with the Los Angeles Chamber Orchestra.
Bill does a wide variety of studio recording including television shows such as Agents of Shield and Hawaii Five-O. He has performed on over 1200 motion pictures including Titanic, Avatar, Bridge of Spies, Jurassic World and Star Trek VII. His recording credits include Frank Sinatra, Barbra Streisand, Arturo Sandoval and the Jazz bands of Mike Barone and John Daversa. While a member of the USAF Airmen of Note he played the jazz chair.
Bill's artistry can be heard on his solo CD Balancing Act which is available on Crystal Records and iTunes. The American Record Guide reviewed it as "One of the finest solo trombone recordings ever made…..executed with deft elegance".