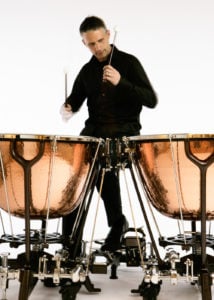 Timpani
Wade Culbreath is principal timpanist with the Pasadena Symphony. He is also principal timpanist-percussionist with the Los Angeles Chamber Orchestra and principal percussionist with the Hollywood Bowl Orchestra. As soloist with the Los Angeles Chamber Orchestra, he performed the Sejourne Concerto for Marimba and String Orchestra, and was praised for his "virtuosity and jazzy flair" (Los Angeles Times) and "dazzling technique." (American Record Guide).
His recording work includes the Steve Reich world-premiere recordings, You Are (Variations) and Daniel Variations on the Nonesuch label, eight recordings with the Los Angeles Philharmonic Orchestra on the Sony Classical and Deutsche Grammophon labels, and hundreds of motion picture soundtracks for the Hollywood film studios including the Academy Award-winning scores for Aladdin, Life of Pi and La La Land.
Wade Culbreath studied at the Eastman School of Music in Rochester, New York where he earned his Bachelor's Degree and Performer's Certificate.