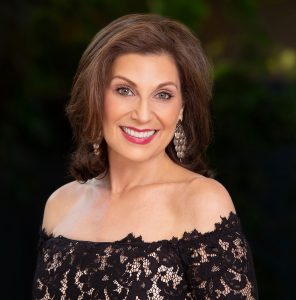 Valerie Perri recently starred as Dolly Levi in 3D-Theatricals Hello Dolly. Eric Marchese of the Orange County Register said, "Valerie Perri delivers a knockout performance as Dolly. Proving a worthy successor to past stars, she's part Channing, part Streisand, part Fanny Brice and 100 percent Dolly."
Valerie's career began under the direction of legendary Director/Producer Harold Prince when he chose her to play Eva Peron in the Broadway National of Evita. She has also had the honor of working with esteemed Director/Choreographer Jerome Robbins in the Broadway National of Jerome Robbins' Broadway. She starred as Norma Desmond in the hit musical Sunset Blvd. at The Karen and Richard Carpenter Center, which garnered her best actress nomination from Broadway World and also a Los Angeles Stage Scene Award for Best Performance of the Year 2013. She's a recipient of the John Raitt Award for best Cabaret Performance 2014.
She has sung for concert hall audiences worldwide, from Disney Hall to Carnegie Hall and internationally at the Opera House in Frankfort and the London Palladium. Her television and film credits include Criminal Minds, ER, Another World, The Out of Towners, George of the Jungle, Grease, and Dickie Roberts. Valerie's compact disc, Sweet Conversation is available on iTunes and you can find her on all social media platforms.