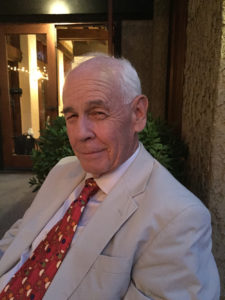 Bass Trombone
Terry Cravens has earned performance degrees from the University of Louisville, the Academy of Music in Vienna, and in 1972 completed doctoral studies at the University of Southern California.
He was a member of the Louisville Orchestra and the Kentucky Opera Association Orchestra from 1961-1965, the West Point Band, 1966-1969, Austin (Texas) Symphony, 1972-1976, and performed frequently with the San Antonio Symphony Orchestra during the mid 1970s. He is a member of the Pasadena Symphony, the Los Angeles Master Choral Sinfonia, and since it's inception in 1986, has been a member of the Los Angeles Opera Orchestra. He currently performs under the baton of Los Angeles Opera's esteemed Music Director, Maestro James Conlon.
Cravens played over two hundred performances of the Phantom of the Opera musical at the Ahmanson Theater in Los Angeles. He has played with the Los Angeles Philharmonic under such notable conductors as Zubin Mehta, Carlos Maria Giulini, Erich Leinsdorf, Pierre Boulez, Andre Previn, Witold Lutoslawski, and Esa-Pekka Salonen. In May of 1991, he toured with the Los Angeles Philharmonic through Scotland, England, and Germany under the leadership of Kurt Sanderling.