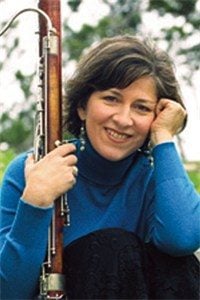 Bassoon
Rose Corrigan started playing bassoon to escape from the flute section of her high school band. It was an act of rebellion and perhaps a way to sit closer to boys. After her first lesson, she brought the bassoon home hoping to shock her parents with her act of bravery and independence, only to discover that her mother had played it herself in high school. This undermined her act of rebellion; however, she was already passionate about the instrument, loving its variety of tone color, richness and lyricism. Its tessitura was closer to that of her voice, and she discovered that she was drawn to the supporting role it often plays in the repertoire.
Currently, Corrigan is principal bassoonist of Pacific Symphony, the Hollywood Bowl Orchestra and the Pasadena Symphony, and a former member of the Los Angeles Chamber Orchestra and the Los Angeles Opera Orchestra. Corrigan is a graduate of the University of Southern California where she studied with Michael O'Donovan, a teacher whose pedagogy included exposure to great cinema, literature and restaurants. She returned to the university as an adjunct professor, teaching bassoon from 1993 until 2011.
Corrigan has played bassoon and contrabassoon on the soundtracks of over 500 motion pictures, working with composers such as Michael Giacchino, Patrick Doyle, Hans Zimmer, Danny Elfman, John Powell, Jerry Goldsmith, John Williams, James Horner, Michel Legrand, Michael Kamen and William Ross. A few of the films that include her playing are Ice Age, Life of Pi, Bolt, Despicable Me, Dances with Wolves, A River Runs Through It, Aladdin, The Lion King, Cars, Enchanted, WALL-E and Pirates of the Caribbean. Her bassoon solos are prominent in March of the Penguins, one of the only movies to list a bassoonist in its closing credits. She has also performed on hundreds of records for stars like Paul McCartney, Tony Williams, Barbra Streisand and Natalie Cole.
Rose lives in Sierra Madre with her trombonist-composer husband Steven Williams and their three children.  An enthusiastic organic gardener, tending vegetables and over 50 different fruit trees, she enjoys sharing baskets of avocados and other produce with friends and colleagues.