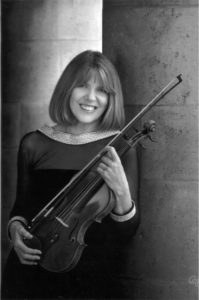 Second Violin
An active freelance musician in southern California, Rebecca Rutkowski, is the concertmaster of the Beach Cities, the Peninsula and the Topanga Symphony orchestras. A long-standing member of the Pasadena and Glendale Symphonies and the South Bay Chamber Orchestra, she has been a member of the ABT and Joffrey Ballet orchestras. In addition to her work at the Ojai Music Festival, she has been a first violinist with the San Luis Obispo Mozart Festival most summers since its beginning season.
A graduate of UCLA and Case Western Reserve University, Miss Rutkowski won the George Szell Memorial scholarship studying with Cleveland Orchestra concertmaster Daniel Majeske. Appointed assistant concertmaster of the Cleveland Philharmonic by its Music Director Robert Marcellus, Rebecca served three seasons before returning to Los Angeles. She holds several premiere performances to her credits and has commissioned both solo and chamber works in her capacity as a founding member of the Amati Chamber Society.
Miss Rutkowski has her own violin studio in the South Bay and is a frequent judge at music competitions.
       " To begin each morning with the sound of Bach in one's inner ear and close 
              the day with thankfulness that one has made music with friends and
                  colleagues — could anyone's biography be more simple?" RR