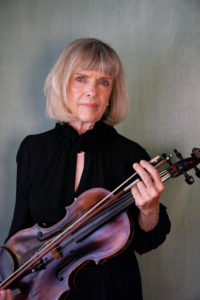 Polly Sweeney was born in Rochester, New York. Early on, she exhibited perfect pitch and an extraordinary talent for music. In addition to her love for music, Polly is an accomplished equestrian, having trained from an early age and competing at the national level. After attending Oberlin Conservatory and serving as concertmaster for 2 of her 4 years, and winning the concerto competition, she attended the Julliard School in New York City. During her time at Julliard, Polly was musical peers and classmates with legendary musicians such as Itzhak Perlman and Pinchas Zukerman.
Polly and her husband Stender settled in Los Angeles, California in the late 1960s. During this time, Polly established her career among prominent composers and musicians working in the field. She built one of the most enviable and enduring careers in the business, beloved and selected to collaborate by the great artists in the industry. During her studio recording career, Polly played on the soundtracks for 782 films and TV shows, including Titanic, Jurassic Park, Apollo13, and many other great titles. In addition to her studio work, Polly was selected to perform in the Academy Awards orchestra over many years.
Polly's work has been instrumental in building the classical music scene of Los Angeles, not only in studio work but also in full symphony and chamber music. She has helped shape the sound of the Pasadena Symphony (33 years in the violin section and 18 years as personnel manager) and helped establish it as one of the finest orchestras in California, building its membership with the best and brightest studio players with their passion for playing classical music, live in the concert hall.
Polly and her husband, Stender, reside in Pasadena, California and have three children: Stender, Alison, and Ryan, along with eight loving grandchildren.