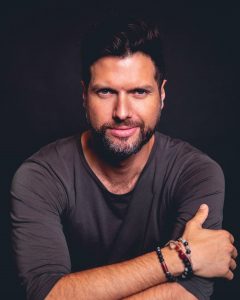 Mauricio Martinez is a Mexican Actor & Recording Artist who starred as Emilio Estefan in the Broadway Musical On Your Feet! The Story Of Emilio & Gloria Estefan. Martinez is also known for his role in the Emmy-winning NBC Universo's original TV series El Vato on Netflix.
A household name in Mexico & Latin America, Mauricio starred as the leading man in the Mexican productions of the Broadway musicals Beauty & The Beast, Saturday Night Fever, The Drowsy Chaperone, Sweet Charity, the premiere Spanish versions of Off Broadway's The Last 5 Years, Songs From An Unmade Bed and in plays such as Arthur Miller's A View From The Bridge & Toyer, a thriller by Gardner McGay, before crossing over to the US.
On the American stage, Mauricio originated the starring role in the world premiere of Children Of Salt, a New Latin Musical at the New York Musical Festival in 2016 and went on to play the iconic role of 'Che' in Evita at the prestigious Kansas City Repertory Theatre that same year, before making his Broadway debut as music mogul Estefan in the summer of 2017. In 2020, he will be perform in "Unmasked: The Music of Andrew Lloyd Webber," directed and choreographed by Joann M. Hunter at Paper Mill Playhouse.
Martinez's TV credits include Bailando Por Un Sueño (Mexico's Dancing With The Stars) and the telenovelas (Latin soap operas) CLAP, La Mujer Del Vendaval & Atrévete A Soñar, all of which aired in the US on Univision. He was recently seen in Señora Acero 2 on Telemundo in the US and has appeared on CBS performing a tribute to Gloria Estefan at the 40th Annual Kennedy Honors in Washington, DC, as well as on The Talk and The 2019 Gershwin Prize on PBS, performing next to artists like Cindy Lauper, Rita Moreno, Andy García and Gloria Estefan.
Mauricio has also recorded two Latin Pop albums: Desde 1978 (2012) & his follow up Desde 1978…Lado B (2014) with e35 Music Group. Both albums are available on iTunes worldwide and his music videos can be seen on YouTube.
Whether in TV, music or theatre, in English or Spanish, Mauricio Martínez enjoys one of the most multifaceted careers in entertainment.