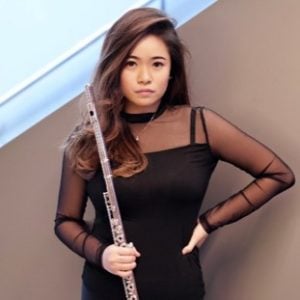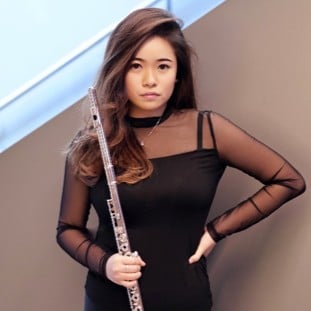 Martha Chan
Flute
Born and raised in Hong Kong, Martha Chan is an Artist Diploma candidate at The Colburn School, where she studies with Jim Walker. She graduated with her MM in flute performance from Rice University under the tutelage of Leone Buyse and holds a BM in flute performance from The Eastman School of Music where she studied with Bonita Boyd. She was a full scholarship music student at the Hong Kong Academy for Performing Arts where she studied with Izaskun Erdocia.
After winning "Young Musician of the Year" Winds Open Class Competition (Hong Kong, China and Macau) at age 14, Martha appeared as soloist in 2010 with the Hong Kong Philharmonic Orchestra. She was also awarded the highest distinction in Associate Diploma and Licentiate Diploma from Trinity College of London at the age of 11.
Martha made her New York solo debut in Carnegie Hall's Weil Recital Hall after winning first prize at the 2015 American Fine Arts International Concerto Competition. She also won first place in the Vienna Virtuoso International Competition and was invited to the Mettallener Saal Musikverein. A top prize winner in the London Virtuoso International Competition, she was invited to perform at Royal Albert Hall. She was the first prize winner of the 2019 Donald Peck international flute competition, 2019 Colorado Flute Association Young Artist Competition, 2015 Rochester Flute Association Emerging Artist Category, Parson Music Scholarship for Winds, Brass and Percussion Instruments. She was also a finalist in the Coeur d'Alene Symphony Young Artist Competition and the 56th Annual Eastern Connecticut Symphony Instrumental Competition. Martha was selected to receive a Performer's Certificate from Eastman School of Music for her achievements as a flutist and was runner up for the Shepherd School of Music's Concerto competition.
As an orchestral musician, Martha has performed as principal flute at The John F. Kennedy Center for Performing Arts with the National Symphony Orchestra Summer Music Institute and at Lincoln Center with the Eastman Philharmonia. Martha has spent summers performing at festivals including Spoleto Festival USA, Aspen Music Festival and School, Sarasota Music Festival, where she performed J.S. Bach's Brandenburg Concerto No. 4 alongside Thomas Robertello and Margaret Batjer as a soloist, The Kennedy Center's National Symphony Orchestra Summer Music Institute with full scholarship, Hamamatsu International Wind Instrument Academy and Festival and Orford Musique.