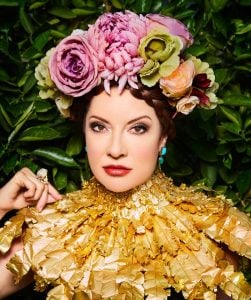 Margo Rey is an 8x Billboard Top 20 chart topping artist, singer, songwriter, composer & producer based in Los Angeles. Additionally, she is the co-founder of the L.A. based independent record label, Organica Music Group™ (OMG), which bears the same name as her self-defined, musical genre, Organica. Margo defines Organica as a ferociously nuanced hybrid of Adult Alternative Pop music with deeply rooted Jazz grooves that deliver texturally, ambient guitars and layered with Margo's lush vocal arrangements and it is all made by humans not machines.
She is known for the #1 most played indie original Christmas song of the last six years, "This Holiday Night", which was written and recorded by Rey and has since been elevated to the holiday Gold Charts where it is in good company with the most iconic Christmas classics of the 20th century.
One of Margo's most notable songwriting partners is John Oates of Hall & Oates. Rey & Oates penned and charted Margo's first Billboard hit, "Let The Rain" which remained in the Top 20 for 23 weeks. Oates and Rey continue to write and record together and produced another Top 20 hit, Never 2 Late.
Margo's acting credits include Beverly Hills Chihuahua, the voice over sound-alike for Eva Longoria and Selma Hayak, the voice of TLC Network and Broadway's hit show, The Bee Gee's Saturday Night Fever. see http://bit.ly/margoreyIMDB Margo has toured and performed her original songs throughout North America, the UK and S. Korea. Prominent Jazz Festival performances of Rey include, Play Boy Jazz and Sea Breeze. She has sung in 8 languages and has performed with and opened for artists such as, Marc Anthony, Prince, Dave Koz, comedian, Ron White, Kenny Loggins, John Oates, AC/DC's Brian Johnson and The Spanish Harlem Orchestra.
Margo's return to her roots as a Jazz musician on her latest album, The Roots Of Rey, with multi-Grammy winning arranger, Oscar Hernandez, is a timely testament that her formidable talent is perpetually evolving. The album is a Modern American & Latin American Songbook that is seamlessly curated for the times in English and Spanish for a re-shaped and re-imagined America.
Born in Acapulco, Mexico, Rey grew up in Dallas, Texas, where she received 13 years of classical music and voice training. Due to her classical education and diverse musical interests, Margo has performed in multiple languages and many countries. By her teens, Rey was the lead singer in the all-female rock band, Debutante, and developed a strong following by touring the United States and overseas. Rey also fronted several successful bands, including The Ritual and the Down-tempo Latin-Jazz quintet, Miss Margo & The Lost Souls.
Actor, Edward James Olmos discovered Rey's talent and recommended her for the role of Marcella, in the Broadway production of "Selena Forever", which was based on the life of the late Tejano pop star. This led Rey to a career in Broadway's 1st National, "Saturday Night Fever," and a string of lead roles in productions like "Latin Heat", "Like Jazz", "Zorro: The Musical", "Canta Luna", "Senor Discretion Himself" and she worked alongside such musical icons as Marilyn & Alan Bergman, Cy Coleman, Jo Loesser, Patti Austin, Jack Sheldon and Oscar Hernandez.
Put simply, Margo Rey's voice is aural luxury at its finest. It's the kind of music that makes you want to turn out the lights and drift. As in: forever – past time zones and continents. Margo has charted a new course; in high heels no-less so, the best advice is to settle in and enjoy this splendid voyage.
Margo is a 2x Cancer Warrior and holds this cause near and dear to her heart. She currently lives happily in Los Angeles where she writes, records and tours.