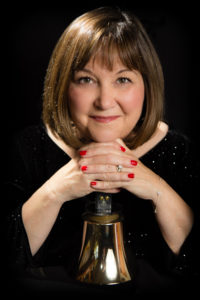 Linda Krantz
Solo Handbell Artist
In the growing genre of solo English handbells, Linda Krantz, Solo Handbell Artist, has been wowing audiences with her artistry and skill since 2005.  A visual as well as musical performer, a handbell soloist must combine the fluid grace of a dancer, the musicality of a virtuoso, and the precision of an athlete to perform on this demanding instrument.  She is a master in all three.
Linda has played throughout the United States and Europe and has been a solo guest artist twice in the Pasadena Symphony Holiday Candlelight concerts.  She has premiered several original works, two of which she herself commissioned.  Her love of classical music is exhibited in the music she plays (her favorite is Faurè), transcribing their works to her instrument.  She was a featured concert soloist at National Seminar of the Handbell Musicians of America, a national organization promoting the advancement of the art of handbell ringing.
All across the country Linda teaches the techniques and skills necessary for a solo handbell musician, encouraging young handbell musicians along the way.  She is currently preparing to teach a Virtual Master Class in Solo Ringing, sponsored by Handbell Musicians of America. 
Linda is the founding member of L.A. Bronze, a semi-professional handbell ensemble which regularly performs in Southern California, as well as being a regular guest artist of the Pasadena Symphony's Holiday Candlelight Concert.
Linda resides in Glendale with her husband, Bill and her darling dog, Molly.