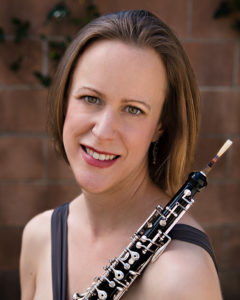 Oboe
Lara is the principal oboist of the Pasadena, Santa Barbara and New West symphonies, and also performs regularly with the Los Angeles Philharmonic, the Pacific Symphony, the Los Angeles Chamber Orchestra, Musica Angelica, and many more. She holds a doctoral degree from the University of Southern California, a masters from the California Institute of the Arts, and a bachelors from the University of Oregon.
Originally from Corvallis, Oregon, Lara moved to Los Angeles in 2002 to study with renowned oboist Allan Vogel. Pursuing freelance work alongside her academic pursuits, she eventually became a regular in the recording studios, and has performed solo oboe and English horn on over 200 motion pictures. Some credits include Star Wars episodes VII-IX, Rogue One, an American Pickle, the new Mulan and Lion King, Incredibles 2, Coco, Marriage Story, Ready Player One, Sing, Finding Dory, Frozen 2, Bridge of Spies, Big Hero 6, and Avatar.
She has also been privileged to record with several legendary artists, appearing on albums by Barbra Streisand, Neil Young, Celine Dion, the Who, Seth MacFarlane, Leslie Odom, Jr., Trisha Yearwood, Jimmy Eat World, Ke$ha, and Alice Cooper. She has also appeared on television with Prince, Mariah Carey, and Andrea Bocelli.
Because the oboe "just wasn't quite hard enough," Lara also plays the baroque oboe and the theremin, the former because of her love for early music and the latter because of her love for the haunting, singing quality of the instrument. Lara starting playing the theremin at the age of 17 and has performed in Carnegie and Disney Halls on the instrument, and also as a soloist with the San Diego Symphony. She has also done some recording on the theremin and can be heard on several episodes of "the Simpsons."
Lara lives in North Hollywood with her husband, Ben, a trombonist and teacher, and their two small children, Cyrus and Roxana. She is an active member of the American Federation of Musicians, and is a titled officer of the Recording Musicians Association.