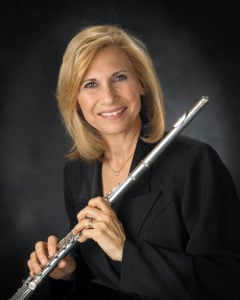 Piccolo
Geri auditioned for the orchestra back in 1978 at the recommendation of her then flute teacher, Louise Di Tullio, whose words were, "You've got to audition for this piccolo opening and win it because that will be your ticket to a successful career in Los Angeles." Geri followed her advice, won the position, and is now playing her 40th season with the orchestra.  Piccolo has been her forte, and after the exposure in the orchestra, she was requested for piccolo with American Ballet Theatre, Joffrey Ballet, subbing in the La Philharmonic, ten years of recording for all the Warner Brothers cartoons and then she became the piccolo player for John Williams since 1990 and is still playing for him.  She continues to have a busy and rewarding career in the recording studios and has played on over 1000 movies and television shows where she most often plays principal flute. She is currently principal flute with the Los Angeles Master Chorale.
She has recorded with Barbara Streisand, Andrea Boccelli, Frank Sinatra, Paul McCartney, Michael Jackson and many others.
Throughout her career she played with Pacific Symphony, San Luis Obispo Mozart Festival, La Chamber Orchestra and Hollywood Bowl Orchestra, and she taught at Csun and Pepperdine for many years.  Her teachers were her father, Johnny Rotella, Luella Howard, Gretel Shanley, Louise Di Tullio, Sheridon Stokes, William Bennett, Marcel Moyse and James Galway.
She is very devoted to her family life and has a wonderful husband, two children, one grandson she is madly in love with and Charles the Pomeranian.