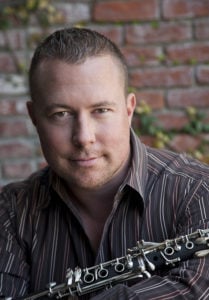 Clarinet
Donald T. Foster is one of Southern California's most active musicians, serving as Principal Clarinetist of both the Pasadena and Santa Barbara Symphonies and as the newly appointed Second Clarinetist in the Los Angeles Opera Orchestra. He is a frequent auxiliary/substitute musician with the Los Angeles Philharmonic and the San Diego Symphony and can be heard often as part of the Jacaranda Chamber Music Series in Santa Monica. Also a frequent studio musician, Foster has been featured on numerous soundtracks for motion pictures and television. He became John Williams' Principal Clarinetist in Los Angeles when he was asked to perform on Indiana Jones and the Kingdom of the Crystal Skull and has been working for him ever since. He recently received screen credit for his solo work on Maestro Williams' Oscar-nominated score to The Book Thief and is currently working on the latest installment of the Star Wars franchise.
Don graduated from the University of Southern California, receiving his Master of Music degree in 1996 while in the studios of Yehuda Gilad and Michele Zukovsky.
He has received Fellowships from both the Tanglewood and Aspen Music Festivals, the latter of which he attended for four consecutive summers.
Don is a former first prize-winner of the Pasadena Instrumental Competition and has performed concertos with such organizations as the Los Angeles Mozart Festival, Marrowstone Music Festival, Westwood Chamber Orchestra, Aspen Music Festival, Santa Barbara Symphony and the Pasadena Symphony.
Prior engagements include serving as Principal Clarinet with the Philharmonie der Nationen based in Hamburg, Germany. While with the Philharmonie he performed in over 250 concerts in virtually every major city in Europe. He has also served as Principal Clarinet of the Colorado Music Festival, in Boulder, Colorado and has been featured in Central America with his reed trio Trianche as a featured ensemble for the Costa Rica Music Festival.
Don is currently serving as Associate Professor of Music at Moreno Valley College in the Riverside Community College District and divides his time with residences in Palm Springs, California and Downtown Los Angeles.