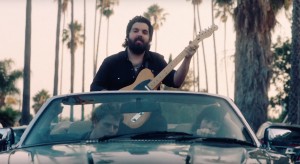 Straight shooters make a mark. They leave a lasting impression whose impact only grows over time. The picture might not always be pretty, but it remains powerful, nonetheless. Representing the missing link between sixties Laurel Canyon and desert dust bowl country right from the heart of Bakersfield, Desure traffics on his own road beset by unfiltered storytelling, evocative instrumentation, and soulful delivery.
Like candid dialogue befitting of a late-night cruise in the glow of headlights and nothing more, thebearded country-folk troubadour doesn't censor a thing. As a result, he steadily maintains pace on an upward rise highlighted by syncs on NETFLIX's The Ranch, sold out tours supporting Midland, and acclaim from the likes of Rolling Stone within a year since his emergence.
"To be honest, the music is a direct reflection of what I'm going through," he affirms. "The songs are pretty literal. Everything I write comes from me. Music is therapy, straight up. I have to release it, or else I get in my head. It starts with a need to say what's on my mind and what I'm feeling."
Born and raised in the San Fernando Valley, he identified music's power at a young age. A huge record player magnetically attracted Desure as he spun mom's Rolling Stones and Beatles vinyl and dad's Neil Young and Bob Dylan records. At the same time, he discovered hardcore and punk, attending underground shows with friends and becoming "hooked on the energy of people crowd surfing and singing along." He picked up a guitar at twelve-years-old and learned by teaching himself Green Day. By 14, he performed regularly in high school bands. Two years later, he left his folks' house and moved into his girlfriend's Hollywood pad.
After "years of fucking around," friends in Midland invited him to join them on the road as a tour manager. Relocating to Texas, he traversed the country with the boys and learned the ins and outs of the business. After opening for them last-minute at a show in Bakersfield, he hung up his management spurs and made a decision to "get serious about creating music again."
In 2018, he unveiled his debut single "Stranded Son" and stirred up a growing buzz. In the aftermath of its release, Rolling Stone lauded him among "10 New Country Artists You Need to Know." Between touring with Midland, the slick and swaggering send-off "Kick Rocks" followed as he continued to record the tracks that now comprise his 2019 debut EP. Blurring the lines between country, folk, indie, and rock, these six tracks formally introduce him. A clean lead and rustling acoustic guitar back his catchy confessional on the single "Los Angeles." Rife with wailing slide guitar, a sunny spirit underscores the telling admission, "Los Angeles, you're killing me. Lord, I can't live on two hours sleep. With a daily dose put up my nose to the women we talk to after shows, it's a simple reminder of what's to come when I say I won't—but wind up drunk."
"It's about me moving to Texas," he explains. "During the time, I just needed to get the fuck out of L.A. My lifestyle was dangerous, because I was partying nonstop and not really doing shit. I didn't have a care in the world. It's therapeutic to tell this now. I wanted to finally do music like I was supposed to instead of just talking about it."
On the EP, the nocturnal bliss of his cover of "Sailing Nights" by Bob Seger represents the cinematic side of his vocals with its robust piano and vivid production. Meanwhile, the stark acoustic "Stay Here A While" offers up a heartfelt ballad to his wife. "It's a really important one," he adds. "I just wanted to say thanks to her."
By holding nothing back, Desure makes a mark of his own. "I hope people possibly feel inspired when they listen to me," he leaves off. "If I can make one person feel this way, it's beyond anything I could ever ask for. My songs are who I am. I'm giving you me."