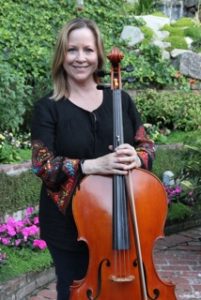 Cello
Deborah Kollgaard has been a member of the Pasadena Symphony Orchestra for 24 years. As a freelance cellist, she has played with such groups as Orange County's Pacific Symphony, Los Angeles Music Center Ballet Orchestra, Long Beach Symphony, Downey Symphony, Burbank Philharmonic and as part of the Motion Picture Industry's Academy Awards. Her playing can also be heard on numerous television and movie soundtracks. She currently has been engaged as cellist and fiddle player with the Miskey Mountain Boys, a local classical/jazz/bluegrass (classgrazz) band.
Prior to moving to Los Angeles, she was principal cellist of the Chicago Civic Orchestra and a member of the New Mexico Symphony, the Santa Fe Symphony and the Albuquerque Chamber Orchestra.
A native of Phoenix, Arizona, Deborah received degrees from Arizona State University and Northwestern University. Among her teachers are Hans Jorgen Jensen, Leonard Chausow, Takayori Atsumi, Samuel Mayes and Mstislav Rostropovich. She considers the Pasadena Symphony her "'home" orchestra since she gets to work alongside her husband, Assistant Principal Bassist Christian Kollgaard.