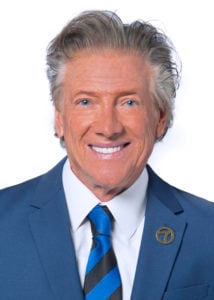 Dallas Raines is the chief meteorologist for ABC7 Eyewitness News, providing weekday evening weather reports.
Dallas joined ABC7 in 1984 and received his Bachelor of Science degree from Florida State University, where he studied broadcast journalism and earth science with an emphasis on meteorology. Dallas has also completed multiple graduate level courses in meteorology and climatology.
Dallas is a Certified Broadcast Meteorologist, an elite designation for individuals who have undergone rigorous examination by the American Meteorological Society. Meteorologists with this seal have passed a stringent written exam testing their understanding of weather and forecasting. Their on-air work is also reviewed by a team of AMS experts who rate their ability to communicate critical weather information to their audience.
Dallas is a professional member of the AMS and has earned the Seal of Approval for TV Broadcasting, as well as numerous awards for outstanding coverage of weather events.
Dallas was invited to the White House in a 30-person scientist/climatologist debate on global warming hosted by President Bill Clinton and Vice President Al Gore.
Among his many awards, Dallas won the Daily News People's Choice Award for Best Weatherperson in Los Angeles. He was named Man of the Year by the American Cancer Society. He was voted Best Weather Presenter/World competition level in Paris, France. He received a Golden Mike Award for Best Weathercast in Southern California in the 4 p.m. to 11 p.m. division. He has received the Associated Press Award for Best Weather Segment. The Greater Los Angeles Press Club awarded him with Overall Excellence in a 60 Minute Newscast. KIIS Radio voted Dallas the Most Popular On-Air Newscaster in Los Angeles . He was also voted the Most Popular On-Air Personality at CNN by ON CABLE magazine. His coverage of Hurricane Frederic earned him the National Oceanic and Atmosphere Association (NOAA) Outstanding Coverage Award.
When not on television, Dallas has been a meteorology professor at Cal State University, Northridge, staying actively involved in multiple community service and fundraising projects.