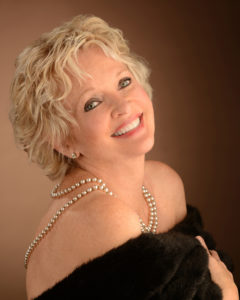 "Christine Ebersole contains multitudes…"
wrote the New York Times critic Stephen Holden.
For over 30 years, two-time Tony Award winning actress, Christine Ebersole has captivated audiences on the Broadway stage, television series and specials, films, concert appearances, and recordings. Add to this her personal roles of wife, mother, daughter, and Spiritual Warrior, and you can fully understand what Mr. Holden means.
Christine was raised in Winnetka, Illinois, an upper-crust suburb on Chicago's North Shore, the youngest of four children. But Christine says she and her family were never quite in sync with the town's ideological exclusivity because they belonged not to the local country club but to the A.C.L.U.
At New Trier High School, Christine played violin in the school orchestra and discovered her own voice in a summer drama class. After New Trier, she briefly attended MacMurray College in Jacksonville, IL, before graduating from the American Academy of Dramatic Arts in New York in 1975.
One of her first jobs was as an understudy in the Broadway musical On the Twentieth Century, followed by her turn as Ado Annie in Oklahoma. From there it was on to Ryan's Hope, One Life to Live, and Saturday Night Live before landing the high-profile role of Guinevere opposite Richard Burton in Camelot.
Christine then shifted her focus from stage to screen and soon headed to Hollywood, appearing in many hit movies, including Amadeus, Tootsie, and Richie Rich. She added an extensive list of television credits as well, including The Cavanaughs, Valerie, and the title role in Rachel Gunn, R.N.
But somewhere south of 40, she realized she was auditioning for roles she used to be offered. When her agent told her she was "over the hill," Christine packed up her family and four-legged friends and fled back to Broadway, finding her home in Maplewood, New Jersey. Reflecting on that time, Christine says, "I moved from Hollywood to Maplewood. What a difference a leaf makes!"
Everything changed. Her ensuing New York stage performances include her Tony Award-winning performance as Dorothy Brock in the smash hit revival, 42nd Street, Steel Magnolias, The Best Man, and Dinner at Eight for which she received both Tony and Outer Critics Circle nominations.
And then came her role of a lifetime. Christine received virtually every Off-Broadway award and her second Tony Award for Leading Actress in a Musical for her dual role as both Edith Bouvier Beale and "Little Edie" Beale in Grey Gardens. Acclaimed by critics and audiences alike, the show was nominated for ten Tony Awards, including Best Musical, and its CD was nominated for a Grammy Award.
Accepting her Tony Award, Christine said, "I left Hollywood when they told me I was over the hill and now I'm standing here with this most distinguished award for what I consider to be the role of a lifetime. I'm over the hill in the role of a lifetime! I consider this to be very encouraging."
And encouraging it was, as Christine's career continued to arc with her starring role in Blithe Spirit on Broadway with Angela Lansbury, her many guest appearances on innumerable popular television series, including her recurring role as Ms. "New Parts" Newberg in the hit cable show Royal Pains and the TBS Sitcom Sullivan and Son. Christine continues to appear in numerous concert halls and Cabaret venues throughout the country, including performances in City Center Encores!, at Carnegie Hall, Tanglewood, the Kennedy Center, Boston Symphony Hall, Feinstein's, and Café Carlyle.
A recording artist as well, Christine has released several CDs, including the recently released Christine Ebersole: Strings Attached.
Check out what she has next on her plate in Upcoming.
Christine lives in Maplewood, N.J. with her husband, musician and abstract artist William J. Moloney, their three teenage children, Elijah, Mae Mae, and Aron, two cats, two dogs, and a bird. It's a home that – like Christine – contains multitudes.