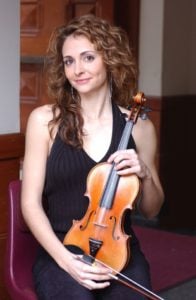 First Violin
Alaskan born violinist Audrey Solomon is dedicated to a diverse musical career consisting of teaching, performing and recording classical, folk, rock, pop, film and television music. She was raised with the Suzuki method by her mother, Suzuki violin teacher, Beverly Beheim in Anchorage, Alaska, where she also studied piano with Moscow Conservatory faculty member, Svetlana Velichtko. At 15, she continued her studies with David and Linda Cerone at the Cleveland Institute of Music, where she received a Young Artist Certificate and Bachelors of Music degree. Audrey received her Masters and a Graduate Certificate from USC with Robert Lipsett in Violin Performance with a focus on chamber music.
Audrey was the winner of the ASTA state solo competition in Alaska and among many awards, won scholarships to attend Encore School for Strings, CIM and a full scholarship to USC. She was the violinist and a founding member of the award-winning Blue Rose Trio. They won top prizes in the Coleman and MTNA National Chamber Music Competitions and won the International Young Artist Peninsula Chamber Division. They were supported by USC's Prodige Program for young performers and had instruments on loan from the Mandel collection. In addition to performances in the US, they performed in Israel, China, Hong Kong, Brazil and France, and established chamber residencies in Alaska, California and Texas. Their album, Black Swan, Yellow Beach with original compositions and pieces written exclusively for the trio, was featured by Chamber Music America as an example of a new approach to classical crossover.
Audrey was Miss Alaska 2000 and competed in the Miss America 2001 Scholarship Competition promoting the platform "Outreach Through Music", where she was awarded the Bert Parks Talent Award. She spent a year promoting music education by giving outreach presentations, which developed into a wonderful teaching career of working through non-profit organizations that support children who are underprivileged and unexposed to music. Audrey toured with the legendary rock band, Rush on their 2012-2013 Clockwork Angels world tour. She records and performs live with contestants on The Voice and American Idol, where she was featured with 2012 winner Phillip Phillips. Other shows include The Mentalist,The X-Factor, Dancing with the Stars, America's Got Talent, The Tonight Show and The Conan O'Brien Show. Audrey did a short tour and performed on Saturday Night Live with Britney Spears. Some recording work includes artists such as Kanye West, Daft Punk, Christina Aguilera, Mary J Blige, Bryan McKnight, Rod Stewart, Barry Manilow, R.E.M. and Zooey Deschanel. Some major motion picture films she recorded for were The Soloist, A Night in a Museum,Next, Spider-Man 3, Beowulf and The Dictator. She was also a two-time fiddling champion and toured with a classical and folk fusion group based in Colorado called "Feast". Audrey has been a member of the Pasadena Symphony for 10 years and is a member of the worship band at Pacific Crossroads Church.
Starting with Suzuki pedagogy training with her mother in Alaska, Audrey has taught privately for 20 years. While attending CIM and taking pedagogy with the Cerones, she was an instructor at the Cleveland School of the Arts and the Cleveland Music Settlement. While working on her graduate degrees, she taught for the USC String department and outreach program, and while a performing member, worked for the American Youth Symphony Outreach Program. She taught classes for Education Through Music (ETM LA), a non-profit that provides for LAUSD schools without music programs. Audrey was a coach for Jr. Chamber Music (JCM) in Thousand Oaks. Currently, she is a passionate teacher for the Harmony Project in LA , where she teaches urban students in classes, private lessons, chamber and orchestra coaching at the Hollywood sites, La City College and Alexandria Elementary School. Here, Audrey established and co-developed the Jr. Academy chamber music program and Hollywood Youth Orchestra Strings.
Audrey has studied yoga for the past 7 years and has developed a mindful approach to body awareness in her violin playing and teaching. She was a featured workshop artist for the LA String Project in 2013 teaching "Yoga for Young String Players". Audrey took Suzuki training with esteemed Colburn teacher trainer, Sherry Cadow and is currently accepting private beginning through advanced level violin students and beginning to intermediate level viola students in her home studio in Woodland Hills, California, where she lives with her husband, drummer Gavin Salmon, and baby boy Tobias.