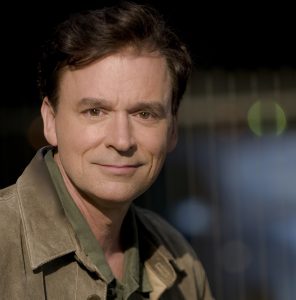 Amick Byram
Soloist
Amick's talents are well established in film, television, and theater.
Amick sang the role of Moses in the Dreamworks animated film, The Prince of Egypt and was featured on camera as soloist Marcus Thornton in the film, A Million Ways to Die in the West. Other films include: La La Land, Star Trek, Planet of the Apes, The Grinch, Night at the Museum, Shrek, Aladdin, Beauty and the Beast, The Lion King, Pocahontas, Hercules, Mulan, and The Greatest Game Ever Played just to name a few.
Amick is a two-time Grammy Award nominee and his solo vocal performance of "Christmas Time is Killing Us" was nominated for an Emmy Award for best song.   He has voiced over 100 episodes of The Simpsons, is a regular on Family Guy and American Dad and is the singing voice of David in West Bank Story, which won an Academy Award for best short live action film.
In theater Amick appeared in Phantom of the Opera (Broadway), Les Miserables, and Sunset Boulevard as Joe Gillis opposite Glenn Close. Other roles include Sky/Guys and Dolls, Tommy/Brigadoon, Jesus/Superstar, Freddy/My Fair Lady, Julio/Paint Your Wagon.
Amick has also guest starred on prime time television from Frasier to Friends and was a series regular for three years on Superior Court playing Attorney Darrell Guillary.  Trekkies know him as Ian Troi, Counselor Troi's father on Star Trek: The Next Generation and Amick is featured on three Star Trek trading cards.
He is a regular concert and symphony soloist in the US and internationally  having performed at Disney Hall, John Anson Ford Theater, and at Victoria Hall in Geneva just to name a few.