New Composers Showcase features works from acclaimed musicians who are shaping the future of classical music including Ellen Reid, Caroline Shaw, Michael Giacchino, Reena Esmail, Sydney Wang and Michael Abels
Pasadena, CA – Music Director David Lockington and the Pasadena Symphony announce its 92nd season with an exhilarating schedule of seven concerts, running October 19, 2019 through April 18, 2020. Alongside a stellar program of celebrated classical works, the symphony is introducing its Composers Showcase for the 2019-20 season, featuring work by both emerging and established contemporary composers at each concert, including two world premiere commissions – opening the season with a piece by aspiring composer Sydney Wang and closing with a new work by Michael Abels, composer of the critically acclaimed score for the film Get Out. All concerts take place at Pasadena's Ambassador Auditorium with both matinee and evening performances at 2pm and 8pm. The season also includes the annually sold-out Holiday Candlelight Concert on Saturday, December 14, 2019 with both 4pm and 7pm performances at All Saints Church.
Lockington kicks off the 2019-20 season on October 19th with Brahms Symphony No. 1 and Naumburg Competition winner violinist Tessa Lark performing Bruch's Violin Concerto No. 1. November 17th brings award-winning pianist Alessio Bax on Beethoven's powerhouse "Emperor" Piano Concerto, along with cutting edge Los Angeles composer Ellen Reid's Petrichor. The orchestra's annual Baroque concert on January 25, 2020 will showcase the triumphant return of local violinist Simone Porter in Vivaldi's Four Seasons paired with Reena Esmail's Teen Murti. Virtuoso violinist Nick Kendall of Time for Three will perform a one-of-a-kind concerto based on Gershwin's Porgy and Bess on February 15th alongside Debussy's La Mer and Oscar and Grammy Award Winner Michael Giacchino's Voyage.
Nicholas McGegan concludes his celebrated tenure as Principal Guest Conductor on March 21st with Mozart & McGegan, a Mozart Spectacular with Symphony No. 39 and the melodic perfection of his Piano Concerto No. 20. Also on the March program, the orchestra will perform Caroline Shaw's Red, Red, Rose, which the Pulitzer Prize-winning composer wrote for McGegan's Philharmonia Baroque orchestra. Lockington returns to the podium on April 18th to close the season with Rachmaninoff Piano Concerto No. 3 performed by Israeli pianist Inon Barnatan, "one of the most admired pianists of his generation" (New York Times), plus Mussorgsky's Pictures at an Exhibition and the new Abels commission.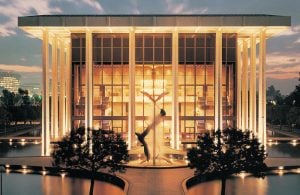 The Pasadena Symphony provides a quintessential experience specially designed for the music lover, the social butterfly or a date night out, and the inner epicurean in us all. Audiences can enjoy a drink or a bite in the lively Symphony Lounge, yet another addition to the care-free and elegant concert experience the Pasadena Symphony offers. A posh setting at Ambassador Auditorium's beautiful outdoor plaza, the lounge offers uniquely prepared menus from Claud & Co for both lunch and dinner, a full bar and fine wines by Michero Family Wines, plus music before the concert and during intermission.
All Symphony Classics concerts take place at Ambassador Auditorium, 131 S. St. John Avenue, Pasadena, CA 91105, with performances at 2pm and 8pm. Subscription packages start at $99 with single tickets starting at $35. Both may be purchased online at pasadenasymphony-pops.org or by calling (626) 793-7172.
2019-20 Symphony Classics Series Calendar
Brahms Symphony No. 1
October 19, 2019
David Lockington, conductor
Tessa Lark, violin
Sydney Wang  Commission (world premiere)                     
Bruch  Violin Concerto No. 1
Brahms  Symphony No. 1      
Beethoven "Emperor" Piano Concerto
November 16, 2019
David Lockington, conductor
Alessio Bax, piano
Ellen Reid  Petrichor
Beethoven  Piano Concerto No. 5 "Emperor"
DeFalla  El amor brujo: Ritual Fire Dance    
DeFalla  Three-Cornered Hat: Suite No. 1    
Marquez  Danzόn No. 2         
Holiday Candlelight
December 14, 2019
David Lockington, conductor
Soloist to be announced
Los Angeles Children's Chorus
The Donald Brinegar Singers
L.A. Bronze Handbell Ensemble
Vivaldi Four Season
January 25, 2020
David Lockington, conductor
Marissa Benedict, trumpet
Simone Porter, violin
Albinoni  Oboe Concerto (transcribed for trumpet)
Vivaldi   Four Seasons 
Bach  Goldberg Variations for Strings
Reena Esmail  Teen Murti     
Piazzola  "Spring" from Four Seasons of Buenos Aires        
Gershwin Porgy & Bess
February 15, 2020
David Lockington, conductor
Nick Kendall, violin
Copland  Fanfare for the Common Man
Michael Giacchino  Voyage   
Gershwin  Porgy and Bess: Fantasy for Violin and Orchestra
Vaughn Williams  The Lark Ascending         
Debussy  La Mer
Mozart & McGegan
March 21, 2020
Nicholas McGegan, conductor
Yerin Yang, piano
Caroline Shaw  Red, Red Rose           
Mozart  Piano Concerto No. 20
Mozart  Symphony No. 39      
Rachmaninoff Piano Concerto No. 3
April 18, 2020
David Lockington, conductor
Inon Barnatan, piano
Michael Abels  Commission (world premiere) 
Rachmaninoff   Piano Concerto No. 3
Mussorgsky  Pictures at an Exhibition