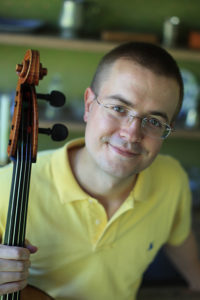 Cello
A native of Los Angeles, Ryan Sweeney has established himself as a successful orchestra personnel manager, cellist and cello teacher. In addition to his position as personnel manager with Los Angeles Chamber Orchestra, Ryan is also the personnel manager for the Santa Barbara Symphony and assistant personnel manager for the Pasadena Symphony.
As a cellist, Ryan has performed with the Los Angeles Philharmonic, Los Angeles Opera, Pasadena and Santa Barbara symphonies and Pasadena Pops. He has also been a performer for the soundtracks of major Hollywood motion pictures, including films scored by artists such as James Horner, Hans Zimmer, Christopher Young and Rupert Gregson-Williams.
Ryan is a founding member of the Fiato Quartet [www.fiatoquartet.com] – along with LACO violinist Carrie Kennedy – which performs numerous concerts throughout Southern California every season. As a soloist, he made his solo orchestral debut in 2002 with the Young Musicians Foundation Debut Orchestra at the Wilshire Ebell Theater in Los Angeles and later soloed with the Northwestern University Symphony Orchestra at the Pick-Staiger Concert Hall in Evanston, Illinois. He has appeared in recital in New York, Los Angeles, Houston, Chicago, New Jersey, Tel Aviv and Jerusalem.
Ryan lives in San Gabriel with his wife Nicky and three children: Colin, Nathan and Hanna.