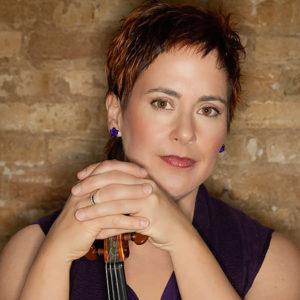 Dylana Jenson
Violin
"A Mature Master" New York Times
"Fire, passion and rhythmic elan" Strad Magazine
Dylana Jenson has performed with most major orchestras in the United States and traveled to Europe, Australia, Japan and Latin America for concerts, recitals and recordings. After her triumphant success at the Tchaikovsky Competition, where she became the youngest and first American woman to win the Silver Medal, she made her Carnegie Hall debut playing the Sibelius Concerto with Eugene Ormandy and the Philadelphia Orchestra.
Following her 2005 Carnegie Hall performance Jenson again electrified in her performance of Karl Goldmark's violin concerto. According to Strad Magazine, "In Jenson's hands, lyrical passages had an intense, tremulous quality…a sizzling performance." Harris Goldsmith of the New York Concert Review said, "I can give no higher praise than to say that her excellent performance brought to mind, and was a loving tribute to, the great Nathan Milstein… one of Jenson's mentors."
Ms. Jenson was made an Honorary Citizen of Costa Rica for her artistic contribution to her mother's homeland. Dylana Jenson comes from a family with a strong tradition in the arts. Her sister, Vicky Jenson,  directed the films 'Shrek' and 'Shark Tale'. Her brother Ivan is a painter and poet. Her daughter, Mariama Lockington, is a Hopwood award winning poet.
In tandem with her solo career Jenson has been busy giving Master Classes and teaching at summer music festivals including as a faculty member at the Interlochen Arts Camp and the Heifetz International Institute. In her teaching she uses the Russian technique taught by Leopold Auer and championed by great artists such as Nathan Milstein, David Oistrakh, Isaac Stern and Jasha Heifetz. This method develops a natural physical relationship to the instrument.
Dylana Jenson started the violin at the age of two and a half with her mother. She then studied with Manual Compinsky, Nathan Milstein and Josef Gingold.