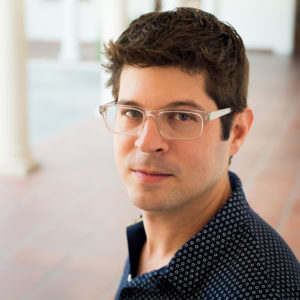 Adam Schoenberg
Composer
Emmy Award-winning and Grammy® nominated Adam Schoenberg (b, November 15, 1980) has twice been named among the top 10 most performed living composers by orchestras in the United States. His works have received performances and premieres at the Library of Congress, Kennedy Center, New York Philharmonic, The Cleveland Orchestra, Dallas Symphony Orchestra, and Hollywood Bowl.
Commissions
Schoenberg has received commissions from several major American orchestras, including the Atlanta Symphony Orchestra (Up! and La Luna Azul), Kansas City Symphony (American Symphony and Picture Studies), Los Angeles Philharmonic and Aspen Music Festival and School (Bounce), and San Francisco Symphony (Losing Earth). Additional commissions include works for Carlos Miguel Prieto and Orquesta Sinfónica de Minería and Louisiana Philharmonic Orchestra, Jerry Junkin and the University of Texas Wind Ensemble and Texas Performing Arts, and concertos for Anne Akiko Meyer, PROJECT Trio, and the Dranoff International 2 Piano Foundation.
Collaborations
Recent and upcoming collaborations include the Phoenix Symphony, Los Angeles Chamber Orchestra, Fort Worth Symphony Orchestra, Boise Philharmonic, Iris Orchestra, Charleston Symphony, Amarillo Symphony, Knoxville Symphony, Arkansas Symphony, and the Nu Deco Ensemble. Recordings include Schoenberg's orchestral works featuring the Kansas City Symphony, an arrangement of When You Wish Upon a Star for Anne Akiko Meyers and the London Symphony Orchestra, and a compendium including his keyboard works by pianist Nadia Shpachenko. Future recordings include his chamber music featuring the Blakemore Trio, and his Symphony No. 2 "Migration" with the University of Texas Wind Ensemble.
Awards & Honors
Adam Schoenberg received two 2018 Grammy® Award-nominations, including Best Contemporary Classical Composition for Picture Studies. He has been Composer-in-Residence with the Fort Worth Symphony (2015-17), Lexington Philharmonic (2013-14), Kansas City Symphony (2012-13), Blair School of Music at Vanderbilt University (2012) and the Aspen Music Festival & School's M.O.R.E Music Program (2010-13). He won several awards, including ASCAP's Morton Gould Young Composer Award for his orchestra work Finding Rothko, the Palmer-Dixon Prize from The Juilliard School and the Brian M. Israel Prize from the Society for New Music. Additionally, Adam Schoenberg received the Charles Ives Scholarship from the American Academy of Arts & Letters in 2006 and the MacDowell Fellowship in both 2009 and 2010.
Film composer
An accomplished and versatile film composer, Schoenberg participated in the 2017 Sundance Composers Lab, and has scored two feature-length films and several shorts. Highlights include That Far Corner: Frank Lloyd Wright in Los Angeles (2019 Emmy Award for Best Musical Composition), and Graceland, co-written with his father, Steven Schoenberg, which premiered at the 2012 Tribeca Film Festival and received its nationwide theatrical release in the spring of 2013. He also co-composed the new theme package for ABC's Nightline.
Education
A graduate of Oberlin Conservatory of Music, Schoenberg earned his Master's and Doctor of Musical Arts degrees from The Juilliard School, where he studied with Robert Beaser and John Corigliano.
He is currently a professor at Occidental College, where he runs the composition and film scoring programs. He makes his home in Los Angeles with his wife, screenwriter Janine Salinas Schoenberg, and their two sons, Luca and Leo.