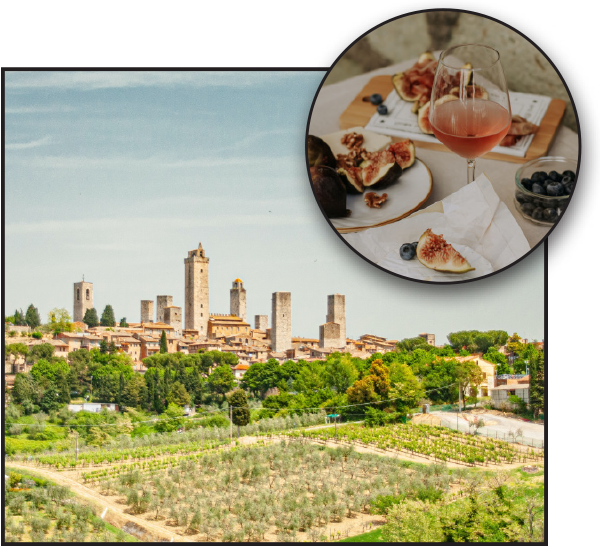 In the middle of the Italian peninsula, an enchanting region which the locals call Toscana lies underneath the golden sun. This package includes a once-on-a-lifetime excursion to this romantic and dazzling region of Italy. Tuscany is characterized by indescribably gorgeous panoramic views, a wealth of architectural and artistic wonders, and a culinary presence nearly as famous as Italy itself. It boasts the most important and highly regarded wine production region in all of Italy, if not, the world. Participate in a unique and innovative experience to learn how to create your personal wine in true Tuscan style.
This experience includes:
7-night stay in a 2-bedroom luxury private villa for 4 people in Cortona, Italy
Private cooking class and dinner
Winemaking session with 6 bottles of your own custom-blend wine
Chauffeur to and from winemaking session
Booking & concierge service
Tuscan Winemaking
The setting for your winemaking experience will be a beautiful and authentic winery between Cortona and Montepulciano with a breathtaking landscape. Under the patient guidance of the winery's resident winemaker, sample wines taken directly from the barrel and learn how to distinguish the characteristics of 4 to 5 specific grapes. The opportunity to smell and taste wine directly from the vats and barrels is a unique experience that not everyone has access to. You'll then blend each varietal in varying percentages, staying close to the Tuscan tradition, while adding a touch of your creativity. Each blend will provide different results and the winemaker will advise you how to get closer to your desired results, whether a sweeter, drier or fruitier note.
When you have reached your perfect blend creation and the formula noted, 6 bottles of wine per person will be produced. Your wine will be stored in the cellar to age (about 30 days) before shipment. Design your own label while at the winery or submit a photo or graphic design later by email to be attached to your bottles. But your day is not over yet! Relax over a fabulous lunch at the winery and tasting of their wine. Private chauffeur service is included for this experience, so you can enjoy winemaking and dining in the most relaxed way possible.
Private Villa in Tuscany
Enjoy a 7-night stay for four people in a 2-bedroom, 2-bath villa in the Cortona countryside, including daily chef-prepared breakfast. Surrounded by olive groves and overlooking the peaceful valley of Val' di Chiana, you'll experience the best of both worlds with an ideal location for a private getaway within a short distance to the town of Cortona. The outdoor terrace offers beautiful views and a perfect spot for barbecues and dining al fresco. The garden and private swimming pool allow guests to relax under the Tuscan sun.
This charming Tuscan villa has maintained many of its authentic original features without compromising modern comfort. Amenities include air conditioning, heating, WIFI access, satellite TV, mid-week maid service and a washing machine.
This package is for a Saturday-Saturday stay for up to four people.
Culinary Adventure
Experience a private cooking class at your villa and make homemade pasta from scratch. Learn the secrets of the Italian kitchen that made Tuscany famous. The cooking class will be followed by dinner, where you'll enjoy the fruits of your labor.
NOTE: Cortona is approximately a 1.5-hour drive from Florence and a 2.5-hour drive from Rome. Nearby cities: Perugia 45 km; Siena 70 km; Florence 100 km; Rome 205 km; Pisa 200 km.