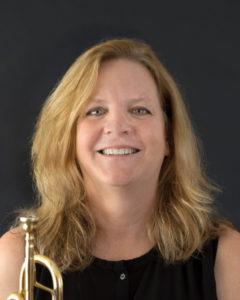 Trumpet
Marissa Benedict has been a freelance trumpeter in the Los Angeles area for 38 years. As well as playing Principal in the Pasadena Symphony/Pops she is also Associate Principal trumpet in The Long Beach Symphony and Pops Orchestra. She actively performs with the Los Angeles Opera, Los Angeles Philharmonic, Los Angeles Chamber Orchestra, Santa Barbara Chamber Orchestra, Los Angeles Master Chorale, Orchestra Santa Monica and The Long Beach Municipal Band, and is a founding member of the Modern Brass Quintet.
A very active and in-demand studio player, she can be heard on nearly 150 motion picture recordings including The Incredibles II, Coco, Moana, SpiderMan Homecoming, Jurassic World, Meet the Millers, Indiana Jones IV, Avatar, The Polar Express, Spider-Man 2, Monsters, Inc., War of the Worlds and many more. Her television studio recording credits include Star Trek: Enterprise, Star Trek: Voyager, JAG, Commander in Chief, Galavant and Agent Carter.
Marissa is also an active and dedicated music educator. She is on the faculty at The Colburn School of Performing Arts, California State University at San Bernardino, Glendale Community College and is also a trumpet coach at Burbank High School and Harvard Westlake Academy. While staying busy with her music and teaching career she and her husband Mike just celebrated their 32nd wedding anniversary and have raised three children.