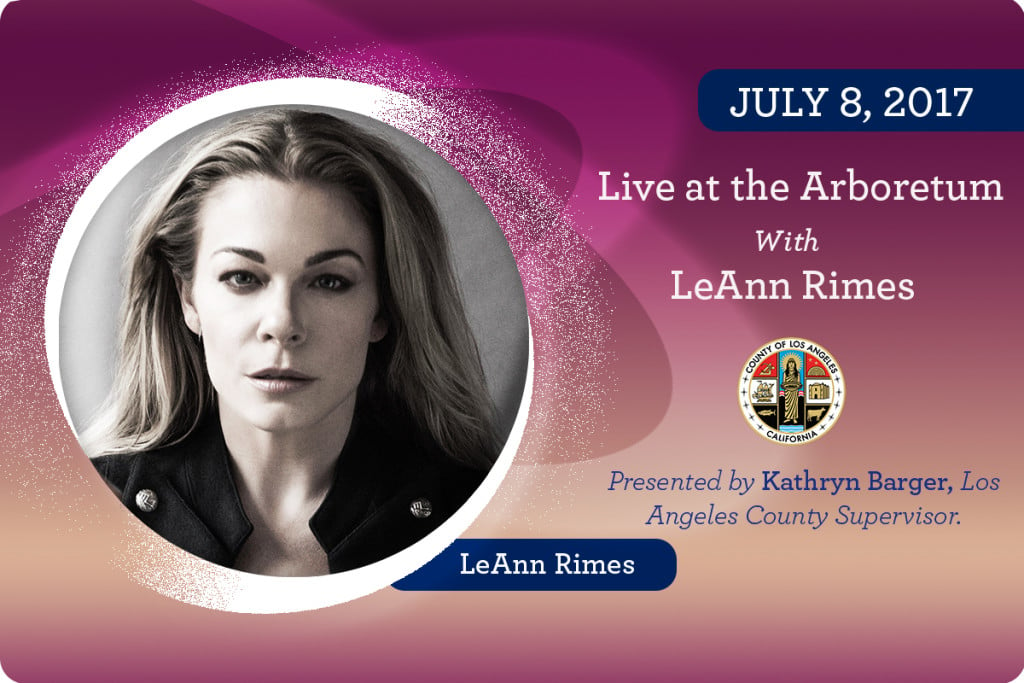 Presented by Los Angeles County Supervisor Kathryn Barger, The Department of Parks and Recreation & The Los Angeles Arboretum Foundation

The Live at the Arboretum is on Saturday, July 8, 2017 at the Los Angeles County Arboretum and Botanic Garden. The concert, featuring LeAnn Rimes, is presented by Los Angeles County Supervisor Kathryn Barger, the Los Angeles County Department of Parks & Recreation and the Los Angeles Arboretum Foundation.
Gates open at 5:00 pm. The concert begins at 6:30 pm on the Bauer Lawn. The Arboretum is located at 301 North Baldwin Avenue, Arcadia, CA 91007, www.arboretum.org.  Children under 12 are admitted free to this concert and must be accompanied by an adult. Food and soft drinks will be available for purchase onsite. Beer and wine will also be available for purchase at the Arboretum Library's Beer for Books/Wine for Spines booth. All proceeds benefit the Arboretum Library.
The concert lasts approximately 2 hours.  Please dress comfortably and bring a jacket or sweater for the evening as it will get cool. Please be aware that for safety reasons, open flames (candles, lanterns, etc.) are not permitted. Smoking is not permitted. Guests can use umbrellas before the concert, but umbrellas must be put away prior to the start of the concert. Assistance dogs are allowed but no pets please. The performance will occur rain or shine. Ticket purchases are non-refundable.
Parking is available on the day of the concert. The fee is $10 for the Arboretum lot.
Drop Off:  A zone for dropping off passengers and food items is located at the main entrance to the Arboretum. Please enter at Arboretum Way.
LeAnn Rimes is an internationally acclaimed singer and ASCAP award-winning songwriter. Globally, she has sold more than 44 million units, won two Grammy® Awards; 12 Billboard Music Awards; two World Music Awards; three Academy of Country Music Awards; one Country Music Association Award and one Dove Award. At 14, Rimes won "Best New Artist" making her the youngest recipient of a Grammy® Award. LeAnn recently inked a worldwide deal with RCA UK who will be releasing her 16th studio album, Remnants, on October 28, 2016. The first single, The Story, was released in the UK earlier this summer.
She had her first national hit at age 13 with the 1996 release of Blue, which remained at the No. 1 spot on Billboard's country albums chart for more than three months. 2016 marks the 20th anniversary of her debut album, Blue. Out of the 42 singles she has released throughout her expansive career, LeAnn's song How Do I Live, ranks #4 on Billboard's "Greatest of All Time: Hot 100 Songs," and it holds the record for being the second longest charting song ever on the Billboard Hot 100 chart. 15 of her multi-genre singles are top-10 hits, including Can't Fight the Moonlight which went #1 in 11 countries.
She had a hand in penning every song on her 2007's release Family, which received two GRAMMY nominations. Her last album with Curb Records, Spitfire, was released in June 2013 and was immediately a critics darling, debuting at number nine on Billboard's Top Country Album chart and number four on iTunes. An album of greatest hits dance remixes, Dance Like You Don't Give A ….Greatest Hits Remixes, released the summer of 2014 and went to #1 on the iTunes Dance chart. In 2015 LeAnn released her third Christmas album titled, Today is Christmas, which is a follow up to her 2014 album, One Christmas.
LeAnn has also ventured into acting, including the CMT Original Movie Reel Love, Lifetime movie Northern Nights and the ABC telefilm Holiday In Your Heart, (based on the novel she wrote by the same name). She has also penned the inspirational book What I Cannot Change and children's books Jag and Jag's New Friend.
LeAnn has long-supported a variety of charity organizations including the National Psoriasis Foundation, DAV (Disabled American Veterans), The Coalition to Salute America's Heroes, Stand Up For Kids as well as The Trevor Project. She most recently began her work with the Friend Movement, an anti-bullying organization.