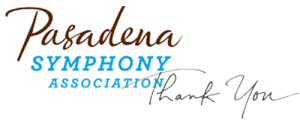 Members of the Conductor's Circle
The Pasadena Symphony Association is honored to acknowledge its Conductor's Circle members – donors whose deep belief in the PSA mission and dedication to its vision support the organization's ongoing operations. Conductor's Circle membership includes a range of donor benefits – click here to discover more. For more information, please call 626-793-7172, Ext 45.
Conductor's Circle listing is from January 1, 2014 – March 1, 2015. We apologize for any errors or omissions.
CONDUCTOR'S CIRCLE MEMBERS
Kathleen & Dean Aberman CC
Pam & Jerry Ackrich CC
Jane & Dan Armel CC
Cynthia Bennett, Ed de Beixedon CC
Dean & Karen Billman CC
Adele Binder CC
Mr. & Mrs. Bruce A. Blomstrom CC
Fred & Diane Blum CC
Jenifer Paul Bode CC
Mary Farley Bowser
Mr. & Mrs. John Byer CC
Julie Campoy
Catherine "Tink" Cheney & Barry Jones CC
Christopher Chorba CC
Mr. & Mrs. Donald P. Clark CC
Edward & Alicia Garcia Clark CC
Craig Colbath
Mr. & Mrs. Ray B. Combs CC
Lynn Van Dam & Carl W. Cooper CC
Mr. David Crissey CC
Marie Csete CC
Fred & Frederica Culick CC
Barbara & Jack Dawson CC
Ingrid de Llamas CC
Mr. & Mrs. David Demont CC
Linda Dickason
Darrell Done CC
Dorothy & Michael Doyle CC
Mr. & Mrs. Eugene H. Dryden CC
Mr. & Mrs. Richard K. Durant CC
Dr. Annette L. Ermshar & Mr. Dan Monahan CC
Georgianna Bray Erskine CC
Gerald Fishbein & Millicent Reynolds CC
Dr. Alan Fisher CC
Robert Floe CC
Anita B. & Haley Fromholz CC
Gerri Lee Frye CC
Mr. & Mrs. William J. Galloway CC
Veronica & Greg Garabedian CC
Mr. & Mrs. Tom Gilfoy CC
Mr. & Mrs. Kenneth Glazier CC
Fred Glienna CC
Tom Goff CC
Marcia Good
Mr. Eric Gronroos CC
Ronald Gustafson CC
Ann Hamilton CC
Simon Harrison CC
Irwin Helford CC
Maximo Hernandez CC
Freddi & Ken Hill CC
Liz Levitt Hirsch CC
Mr. & Mrs. Carl W. Hulick CC
Dr. Marylou Ingram*
Joe & Gerry Jackson CC
Richard Kagan CC
Kathleen Kane CC
Kathleen Karme CC
Gretchen Kelly CC
Jim & Beverlee Bickmore Kelly CC
Raymond & Cinty KepnerCC
Mrs. Patricia H. Ketchum CC
Kay Kochenderfer & Frank Toomey CC
Gloria Koeppel CC
Marlene R. Konnar & John D. Baldeschwieler CC
Linda & William Krantz CC
Ronald M. LaBran and Linda Relyea CC
Mr. Christopher M. Laquer CC
Nancy & Michael Leb CC
Ms. Ilona Linden CC
Bill Ling CC
Anthony & Amy Locascio CC
Dr. & Mrs. John Lusche CC
Mrs. Jacob Maarse CC
Ms. Lorie MacKenzie CC
Mr. & Mrs. Peter Mandell CC
Mr. & Mrs. Craig Martin CC
Jeannette & Warren Martin CC
Jill Mather & Jeffrey Snell CC
Margaret L. Mathews CC
Priscilla McClure CC
Mr. Brian McDermott CC
Jeff McDermott CC
Ms. Anne Akiko Meyers & Mr. Jason Subotky CC
Mr. & Mrs. Robert Michero CC
Barbara & Philip Miller CC
Mr. & Mrs. Lee Mothershead CC
Roger & Gloria V. Mullendore
Susan Napier CC
Li New & Barbara Etess CC
Gaylord E. Nichols CC
Mr. & Mrs. Charles R. Norman CC
Paul S. Norris CC
Dale Okuno CC
Gloria & Don Pitzer CC
Diane & Herb Rankin CC
Joan & Bob Redford CC
Heather Rim CC
Halaine & Dr. J. Holt Rose CC
Paula & Lloyd Ross CC
Joyce & Reid Samuelson CC
Dr. & Mrs. Warren Schlinger CC
Margaret & Charles Sedenquist CC
Gary Sherman CC
Bill & Susan Shieff* CC
Edward & Gloria Smith CC
Barbara & Bill Steinwedell CC
Alice & Ed Stone CC
Gregory Stone & Cindy Vail CC
Mr. & Mrs. George Strong, Jr. CC
Mr. and Mrs. Philip V. Swan CC
Polly & Stender Sweeney CC
Fanya & William Thomson CC
Betsey Tyler CC
Chelisa Vagim CC
Mr. Randal S. Vallen & Ms. Juli Barry CC
Dora Calott Wang, M.D. CC
Carolyn and Craig Watson CC
Maria Low Way  CC
Ms. Irene Althea Welch CC
Frank S. Whiting CC
Hon. Robert E. Willett CC
Frank L. Williams CC
Mr. Reginald A. Wilson & Ms. English A. Heisser CC
Kimberly S. Winick & Lawrence W. Chamblee CC
Jill Wondries CC
Ms. Mindy L. Ying CC
Mr. & Mrs. Doug Yokomizo CC
Paul Jan Zdunek CC
Mr. & Mrs. William Zimmerman CC